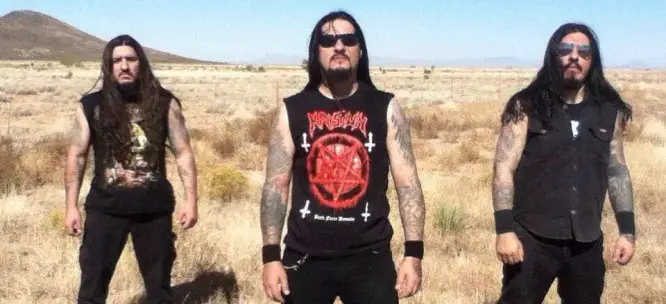 KRISIUN have announced that they will support CANNIBSAL CORPSE on their upcoming run across Europe:
"Dear Friends. It's such a immense honor for us in Krisiun to announe the following statement. The band will take the direct support slot on the next Cannibal Corpse European tour. Touring with these guys is not only a great opportunity but a great responsibility as well as Cannibal Corpse are clearly one of the biggest metal acts out there.
We are proud and honored to be given the chance to perform right before them. Since the release of our latest album "Forged in Fury" (Century Media Records) we have been touring non-stop and our live performance will be as hard and brutal as it possibly can be. We've been working relentlessly hard to represent what we call Death Metal and being part of this tour is a great achievement for the band. So, we'd like to invite all you Death metal maniacs to come out and witness a night of pure relentless brutal music. See you at the show,we will share a beer.
Alex and Krisiun"
Full list of tour dates can be seen below.
In anticipation of the tour, KRISIUN just launched a new video for the song "Scars Of The Hatred", filmed at PartsySan Open Air 2015. You can watch it below.
KRISIUN's latest album "Forged In Fury" was released in 2015 and press reactions have been outrageously positive, with Metal Hammer (UK) stating that the "Brazilian berserkers hit a career peak". "Here lies the difference between followers and leaders. Krisiun always belonged to the second category and it's never been truer than in 2015."
The album scored #1 in the sound check of LEGACY (D) right away, and made it to # 7 in the RockHard (D) sound check and to #8 in the Metal Hammer (D) sound check.
Here's the full list of dates of the Cannibal Corpse tour:
April 15th 2016 – FLENSBURG, Roxy (DE)
April 16th 2016 – COPENHAGEN, Vega (DK)
April 17th 2016 – OSLO, Sentralen (NO)
April 18th 2016 – GOTHENBURG, Sticky Fingers (SE)
April 19th 2016 – STOCKHOLM, Klubben (SE)
April 21st 2016 – HELSINKI, Nosturi (FI)
April 22nd 2016 – TALLINN, Tapper (EE)
April 23rd 2016 – RIGA, Melna Piektdiena (LV)
April 24th 2016 – VILNIUS, Loftas (LT)
April 25th 2016 – WARSAW, Proxima (PL)
April 26th 2016 – POZNAN, Blue Note (PL)
April 27th 2016 – PRAGUE Meet Factory (CS)
April 28th 2016 – ZAGREB, Vintage Industrial Bar (HR)
April 29th 2016 – LJUBLJANA, Kino Siska (SI)
April 30th 2016 – INNSBRUCK, Weekender (AT)
May 1st 2016 – MILAN, Alcatraz (IT)
May 3rd 2016 – AUDINCOURT, Le Moloco (FR)
May 4th 2016 – LEIPZIG, Hellraiser (DE)
May 5th 2016 – ROSTOCK, Mau (DE)
May 6th 2016 – REGENSBURG, Airport Obertraubling (DE)
May 7th 2016 – LINGEN, Alte Schlachthof (DE)
May 8th 2016 – WIESBADEN, Schlachthof (DE)
May 10th 2016 – AARAU, KiFF (CH)
May 11th 2016 – TILBURG, O13 (NL)
May 12th 2016 – HANNOVER, Musikzentrum (DE)
May 13th 2016 – KARLSRUHE, Substage (DE)
More dates will be announced soon!