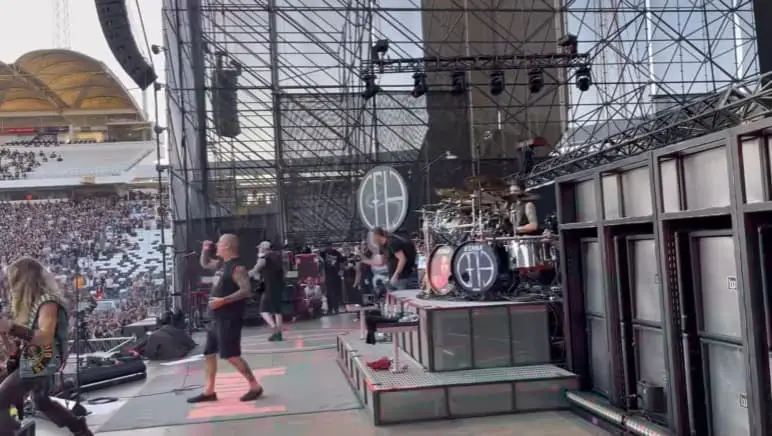 In a talk with Reckless Rock Radio 89.3 KNON FM, Sterling Winfield – the longtime producer of PANTERA and one of the people managing Vinnie Paul's estate – discussed the reunion between surviving members Rex Brown (bass) and Philip Anselmo (vocals) along with Zakk Wylde (guitar; OZZY OSBOURNE, BLACK LABEL SOCIETY) and Charlie Benante from ANTHRAX on drums.
Not long before the reconfigured PANTERA band had their first show, Winfield was among those in attendance at a dress rehearsal on November 21st held in New Orleans. He said: When I was in New Orleans, I knew it was gonna be huge because I got to see how serious they are taking this, how to heart they are taking this. Phil and Rex are different people now; they are not the same people from 20-something years ago. You mature, you grow up, you own your mistakes, you move forward in your life and you hope to make a better way for yourself. And that's exactly what I see here."
Winfield emphasizes that this isn't a reunion, even if Brown, Anselmo, Wylde and Benante are touring under the PANTERA banner.
"It is not PANTERA 2.0, at least not at this point," he said. "Whatever you wanna think, that's fine; go ahead and make your assumptions. But it was the media that called this a reunion; it was the media that called this the reformation of PANTERA — not them. They never put this out there as that; they put this strictly out there as a tribute to the brothers [Vinnie Paul and PANTERA guitarist 'Dimebag' Darrell Abbott] and for the fans and for the music and for the legacy of this music, to bring it to another generation of people."
"There's little kids out there wearing PANTERA shirts, and it's amazing to watch, because, yes, since Dime got killed, there's a whole generation of people that have been born on this earth."
As Sterling attests, Wylde and Benante are the perfect duo to play PANTERA songs with absolute respect for the music and its detail.
He said: "I cannot think of anyone better to handle the duties of Dime and Vinnie than Zakk and Charlie. I've known both of those dudes for a very long time. And Charlie is just a model human being himself and a monster drummer and loved the brothers like you wouldn't believe. And same goes for Zakk.
"They're not trying to be Dime and Vinnie, guys; they're not trying to be that. That would be disrespectful. But they are being themselves and they are having fun. And I think you should come out and do it too. Even just watch some of the videos. You've seen 'em on YouTube. These crowds are insane, and I think you're gonna be missing out if you don't come check it out."
When asked if different musicians were taken into consideration for the drummer and guitarist roles in PANTERA's new lineup, Winfield replied: "There was no doubt in my mind that he would be the one to take over for Vinnie. [It was a] no-brainer — absolute no-brainer. Now, there were some other guitar folks that were brought up. I'll just say this — that it would not have been a good fit, and quite honestly, they would not have been able to pull it off. But it always kept circling back around to Zakk. And after a couple of times, it was, like, again another no-brainer. Because he knew Dime better than most any other guitar player on the planet knew him. Is it gonna be Dimebag Darrell's exact notes and riffs and everything? No. It's Zakk Wylde, you idiots. It's Zakk."
When asked about the chance of reformed PANTERA to record new music, Winfield expressed: "It's not unheard of, it's not blasphemous. I will say that it is entirely plausible, it is entirely possible, but at this point in time, I don't know that anybody's looking that far down the road. They've got a world tour to tackle, man, for the next two years, and they are gonna be busy doing that. Now, could it happen? Yes."
 "It depends, man," he added. "Again, it has to be done right, like this whole thing; the whole tour that's happening has to be done properly. And I don't really feel comfortable — if it were to happen, I would not feel comfortable calling it PANTERA. I don't think that would be classy. I'll put it that way. And I'll just leave it at that for now. [But] this lineup could make some very badass music. And the music is all that matters."