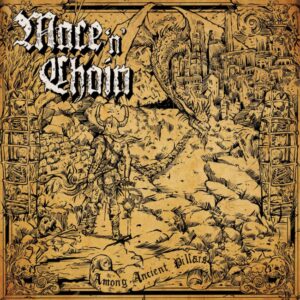 The reason why isn't clear enough for me, but Medieval times are one of the most popular themes for Metal bands. Far away in the 1980s bands as Saxon, Dio, and many others started to sneak in the cape and swords thematic into metal music for the delight of its fans. It's true that it's only Metal music that have a predilection for the theme. Medieval fairs are very common throughout Europe and North America. Here we've got Mace'n'Chain "Among Ancient Pillars" which use those references everywhere in their music and iconography. Needless to say that "Among Ancient Pillars" is a great piece of OId School Heavy Metal. It means epic Heavy Metal music with that knid of emotion we heavy metallers love so much. Add to that a vocalist that loves to scream with all the power of his lungs. Another traist we heavy metallers love so much as well.
Welcoming track "Bloodied Talons" brings some strangement to the fan. The voice of vocalist, and mastermind and multi-instrumentalist, David Nilsson sounds a little bit out, but not in tuning terms, it sounds that it was poorly recorded. The cool instrumentals are somehow higher than vocals. To some extent, I guess the intent was to sound as if it were a Manilla Road song. It's with following track "The Key to Ancient Riddles" that things got in total control and Mace'n'Chain could sound as well as any band would like to. The yell that David Nilsson gives in the beginning of the track got me by the lungs. I just love when vocalists do this. It's amazing. After listening to the album for more than twice, I realized that vocals are the glue that links all th album and gives the band its own personality. For the fans' sake, the album is also full of those twin guitars that we all love. "The Key to Ancient Riddles" is the track that introduces than to the fan. It's also great to have a band that in intent tries to honor bands as Manowar. I mean in intent because musicwise Mace'n'Chain don't sound anywhere near Manowar. It's only in the iconography and the will to power.
It's always great to receive an album as "Among Ancient Pillars" to review. It proves that Old School Heavy Metal flame is alive. I really appreciate the way bands present Medieval times themes the way Mace'n'Chain do. It was an album with this thematics that got me for the first time into Metal music. The amazing 1984's Saxon "Crusader."
Mace'n'Chain "Among Ancient Pillars" will be released on March 24th via No Remorse Records.
Track Listing:
Bloodied Talons
The Key to Ancient Riddles
Defying the Gates
By the Peal of Thunder
Labyrinthian Black
Mound of Ashen Skulls
Fountain of Voices
Upon the Anvil Formed
Watch "The Key to Ancient Riddles" official lyric video here: