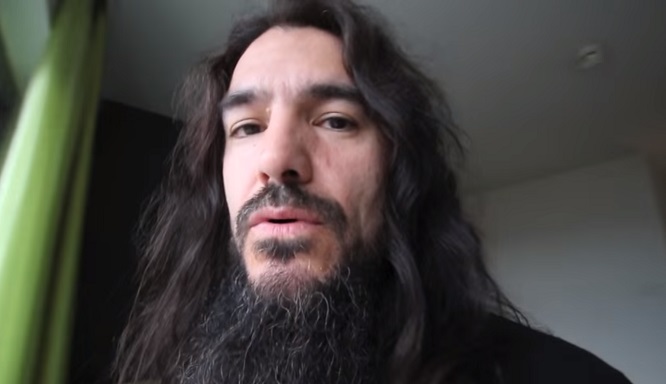 MACHINE HEAD frontman Robb Flynn has confirmed that lyrics for their new single "Is There Anybody Out There?" were partly written about Phil Anselmo's "white power" gesture he made on stage back in January.
The incident happened on January 22 at the fifth annual Dimebash event at Lucky Strike Live in Hollywood. As he left the stage, he made a Nazi-style salute. He appeared to say "white power" as he made the gesture, but he later claimed he was referring to drinking white wine as part of an "inside joke." The event featured iconic musicians like former PANTERA bassist Rex Brown, FOO FIGHTERS frontman Dave Grohl, METALLICA bassist Robert Trujillo and many others.
Flynn, who performed at Dimebash alongside Anselmo and a number of other notable musicians, wrote the original lyrics to "Is There Anybody Out There?" in late 2015, but was unhappy with the initial version of the track because he wanted the vocals to sound more enraged. "I went in two days later to take one more pass at the vocals and try and get a more pissed-off performance, and I started singing the words that I had on the second verse, and I just wasn't… angry," Flynn explained in new "Is There Anybody Out There?" making-of video (see below). "I wasn't feeling it, and so I wrote a whole new second verse about how f*cking appalled I was that he [Philip Anselmo] did that"
He continued: "One of the things [Anselmo] said to me [that night]…. He told us to shut up, stop playing. 'I told you to stop.' I made a little noise and he went, 'You don't know me.'
"No, I don't know you. Not anymore. I don't know you. I don't get it."
Check out the video below to hear Robb Flynn's full description on how "Is There Anybody Out There?" came together.
"Is There Anybody Out There?" is available digitally for purchase now on iTunes, Amazon, Google Play and Nuclear Blast FLAC. In addition, fans can listen to the track now via Spotify, Apple Music and all other streaming services. "Is There Anybody Out There?" will also be made available as a limited-edition seven-inch vinyl starting July 22. Pre-order the release at this location.
"Is There Anybody Out There?" lyrics:

I was born as a bast*rd, no father, no master,
A shadow in silence left searching for answers

Put up for adoption and left with no option
Another kid fostered to fester forgotten

Take a look into these desperate eyes
As they're cast into the wretched hive

But I ain't going down alone
Is there anybody out there?
Anybody listening to me?
Is anybody else scared?
The paranoia, drops me to my knees
Does anybody feel lonely?
Disconnected from the things I see
Is there anybody out there?
Anybody out there just like me?
I'm choking on these words and I can't breathe

Now I stand as a father, to men with no honor
Ashamed of the racists I used to call brothers

'Cause no flag can mean bravery,
when bloodied by slavery,
The rebel, a devil, disguised as a savior

And the sickening feeling in the air
Is the fear to speak that no one dares

So will I stand here all alone?
Is there anybody out there?
Anybody listening to me?
Is anybody else scared?
The paranoia, drops me to my knees
Does anybody feel lonely?
Disconnected from the things I see
Is there anybody out there?
Anybody out there just like me?
I'm choking on these words and I can't breathe

Live my life like I'll die tonight
Dream like I'll live forever

I have roared at the world for years
Doesn't anybody hear me?
This burden suffered, I've paid the cost
Not all who wander are lost

Is there anybody out there?
Anybody listening to me?
Is anybody else scared?
The paranoia, drops me to my knees
Does anybody feel lonely?
Disconnected from the things I see
Is there anybody out there?
Anybody out there just like me?
I'm choking on these words and I can't breathe