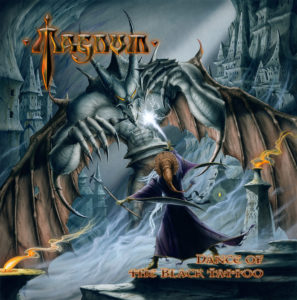 There are bands that even though far away from the stardom are able to get a loyal fanbase and feature albums that please even the harder fan. Some bands are able to build up grand and touchy melodies that are far away from the cheesy sugared emotions. Some bands are able to go thropughout the years with the same level of quality and still conquer the heart of new fans. This band is Magnum and their new release "Dance of the Black Tatoo" which is an album that is a collection that mixes alive songs and radio edited songs.
"On A Storyteller's Night," the title track of their 1985 masterpiece, and "Dance of the Black Tattoo" are another two rare live tracks from the bonus section of "Escape from the Shadow Garden," followed by radio edits of their seasonal anti-war number "On Christmas Day" and the fan favourite "Born To Be King" off their classic "Goodnight L.A.," previously only available on vinyl or for digital download, followed by "Phantom of Paradise Circus" and "No God Or Saviour," both bonus tracks from "Sacred Blood – Divine Lies." "Your Dreams Won't Die" and "Twelve Men Wise And Just' are two live bonus tracks which first featured on "Lost On The Road To Eternity," before "Show Me Your Hands," "Not Forgiven' and "Madman Or Messiah" – three previously unreleased radio edits from the still topical studio recordings 2018's "Lost on the Road to Eternity (2018) and 2020's "The Serpent Rings" – round off the new release.
This album feels like a good appetizer while a new one doesn't come with all its glory. It shows a band that besides all its history and long-time career goes on and on its track of satisfying its loyal legion of fans. Let's wait for the new one, shall we?
Magnum "Dance of the Black Tatoo" will be released on January 08th via Steamhammer / SPV Records.
Track Listing:
Black Skies (live)
Freedom Day (live)
All My Bridges (live)
On a Storyteller's Night (live)
Dance of the Black Tattoo (live)
On Christmas Day (radio edit)
Born to Be King
Phantom of Paradise Circus
No God Or Saviour
Your Dreams Won't Die (live)
Twelve Men Wise and Just (live)
Show Me Your Hands (radio edit)
Not Forgiven (radio edit)
Madman or Messiah (radio edit)
Watch "Dance of the Black Tatoo" live video here: