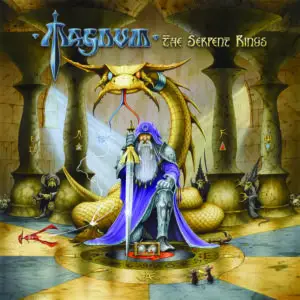 Magnum are one of the very few bands that still use those electronic effects that were 'popular' in the 1980s. The ones Judas Priest – and other bands – used in "Turbo" era. You, my fan, who can happen to Magnum fan – or is it the otherwise? – knows that I never, ever, do puns regarding to band's poor judgment. Okay, that put, I won't say more a word about those electronic sound effects and dancing keyboards that infect tracks as "Where Are You Eden?" and "You Can't Run Faster Than Bullets."
Okay, that was only to break the ice and the writer's block. In fact, with a nonpassionate analysis, "The Serpent Rings" is a pretty good album because it maintains Magnum's main drive. For a Magnus fans, "The Serpent Rings" holds no secrets. Besides all that, de rigueur, Magnus are not strictly a Metal band. It is much more comfortable to say that they are Art Rock or AOR with some pungent touches of Metal in tracks like "Not Forgiven" and the title track "The Serpent Rings." On the other hand, there are tracks as "House of Kings" that are purely Art Rock.
Magnum are a band that a great vocation for the big. "The Serpent Rings" kicks off with "Where Are You Eden?" whose giant grip remembers a lot  AOR masters as Foreigner or Survivor. The piano sequences from the forth minute on are killers. Yeah, Magnus have really a grip for the grand and big. Of course, sometimes the band forces the pop grip as in "You Can't Run Faster Than Bullets" or in "The Archway Of Tears" but everything is in the script including the delicous and catchy choruses and riffs. Magnum are an authentic band which have being doing this for almost forty years.
I frankly don't believe "The Serpent Rings" is a fan only album. If you like Prog Rock, Prog Metal, Hard Rock and AOR this is the right album for you. If you are in the mood for something classy, delicate, and however punchful, "The Serpent Rings" is for you. It is not the heaviest and fastest album you'll ever hear, but it does give you moments of genuine satisfaction.
Magnum "The Serpent Rings" will be released on January 17th via Steamhammer / SPV Records.
Track Listing:
Where Are You Eden?
You Can't Run Faster Than Bullets
Madman or Messiah
The Archway of Tears
Not Forgiven
The Serpent Rings
House of Kings
The Great Unknown
Man
The Last One on Earth
Crimson on the White Sand
Watch "Not Forgiven" official lyric video here: