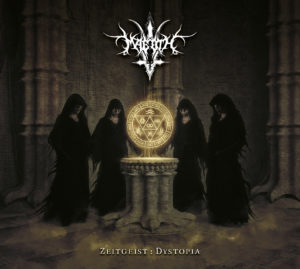 Here we go again. A few months ago we had the opportunity to review Magoth's debut album "Anti Terrestial Black Metal." Read our review here. "Zeitgeist: Dystopia" keeps the top notch quality of the previous album and adds some more grief and pain to Magoth's songwriting. Heergott's vocals are even more emotional passing us a lot of grief and despair interweaven by grandious and eloquent guitars. At times they actually talk, as in the beginning of "Once Ylem Began" where guitar duo Heergott and Shagnar use the technique of mesmerizing high tones phrases. This technique leaves for vocals the most aggressive parts of the songs. It breaks the aggression and makes songs pleasant to human ears.
"Zeitgeist Dystopia" is kicked off by the short, but imponent and grand "Rise" which leads the way to the sonic carnage that will come. It's great to have the opportunity to see how bands evolve. "Zeitgeist: Dystopia" is different from "Anti Terrestial Black Metal" in many ways. Magoth left behind the singalong choruses and wrote thirteen songs that are more guitar driven and with cadences that reminds early Black Metal bands as in "Sinister Forces Arose" with its mesmerizing and almost speed of light drumming. Songs have more detailed guitar riffs. Magoth built up songs to have more ups and downs, to have more plot twists. But vocals are the ones which makes us remember that they are a Black Metal band mostly. It's not only the aggression, but also all the anger, fear, wraith and despair that are herein songs.
Hearing all "Zeitgeist: Dystopia" you one notice that Magoth changed singalong vocals to mesmerizing guitar riffs. The ones that you keep in mind for a long time. Songwriting got more complex though. There are more instrumental passages. "Zeitgeist: Dystopia" wasn't written to be a concept album, but it works as if. There are four songs; "Rise," "Zenith," "Decay" and "Infinity" that work as bridges to other songs as a storyteller would do to sew all stories together. Zeitgeist is a sociological term that means spirit of the times. It refers to an invisible agent or force dominating the characteristics of a given epoch in world history. Dystopia can be not-good place. So, refers to place which fears the spirit of time, the zeitgeist. That's what this album is all about. Magoth are also culture, my child of the night.
Track Listing:
Rise 01:30
Once Ylem Began
Sinister Forces Arose
Above the Sacred Lands
Zenith
Beneath All Venom and Void
The Fates of Resurrection
Summoning the Apocalypse
Decay
When Tyrants Shall Fall
Solidified Ashes Awake
The Nemesis of a Blaze
Infinity
Watch "Summoning the Apocalypse" official video here:
https://youtu.be/yiMeltecefc