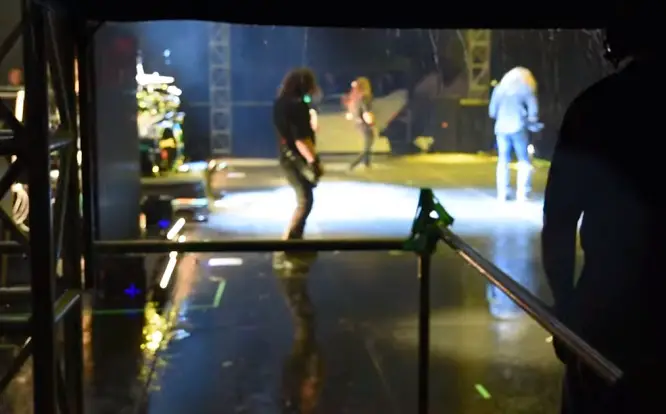 MEGADETH were forced to cancel their show in San Salvador, El Salvador due to a severe rainstorm after only performing two songs.
MEGADETH only managed to perform two songs – "Hangar 18" and "The Threat Is Real" before heavy rain forced them to leave the stage and call off the show as a security measure.
Band's mainman Dave Mustaine thanked fans on Twitter for coming up and apologized for not playing full show: "San Salvador, thank you for coming. I'm sorry the rains came and we could only play two songs. I guess we'll be making this show up too!"
MEGADETH also cancelled their show in Paraguay on August 20 after only seven songs after the fans through the barricades protecting the stage.
San Salvador, thank you for coming. I'm sorry the rains came and we could only play two songs. I guess we'll be making this show up too! 🌧☔️

— Dave Mustaine (@DaveMustaine) August 27, 2016
To the fans that refuse to understand the show is over. Our gear is soaked, we are done. If you keep insulting me, you'll be muted.

— Dave Mustaine (@DaveMustaine) August 27, 2016
It's pouring, lightning was right over us, our gear's ruined, & the promoter knows we left but won't tell the fans. https://t.co/4UPH4RqhjR

— Dave Mustaine (@DaveMustaine) August 27, 2016
I am more concerned that the fans are ok. A giant metal structure in an open field during lightning ain't too smart! https://t.co/8yV0iN6dZi

— Dave Mustaine (@DaveMustaine) August 27, 2016
They had an indoor venue too. Why they put us outside is beyond me. https://t.co/Pd9lcZy5Z6

— Dave Mustaine (@DaveMustaine) August 27, 2016