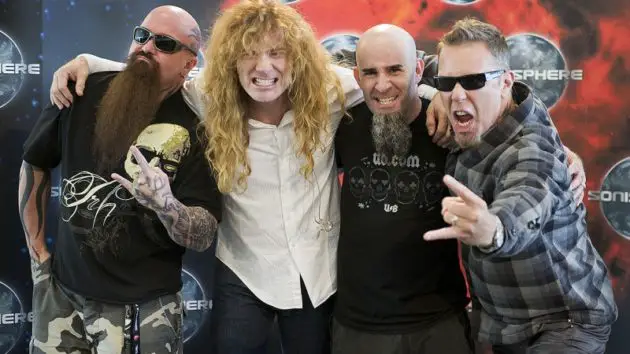 MEGADETH mainman Dave Mustaine said he would like to do one more 'Big Four' show with METALLICA, SLAYER and ANTHRAX, before SLAYER retires after one last tour.
Mustaine tweeted: "I hope for at least one more Big 4 show before the end of SLAYER's final tour. It just wouldn't be right. Anyone else with me?"
Yesterday, SLAYER have announced that they will be doing one last tour before retiring. SLAYER have announced that one of the Big Four will join them on the North American leg of their final tour. ANTHRAX will be special guests, along with LAMB OF GOD, BEHEMOTH and TESTAMENT. Dates are yet to be announced.
I hope for at least one more Big 4 Show before the end of Slayer's final tour. It just wouldn't be right. Anyone else with me? https://t.co/izdosfPyZe

— Dave Mustaine (@DaveMustaine) January 23, 2018