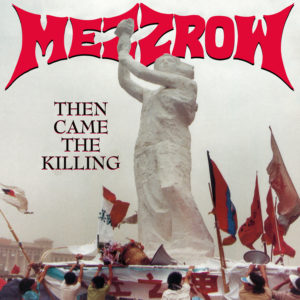 Here we've got one more reissue from a late 1980s Thrash Metal band. Reissues are really a nice thing because, as in my very specific case, it's the opportunity to get to know bands that we would never in regular circunstances. Mezzrow "Then Came the Killing" is a special reissue from the eponymous 1990's album with the 1988's demo tape "Frozen Soul" as long as I know not previously released. What my dear fan will find here is the classic Thrash Metal made eternal by many different and varied bands with a prone to the American style. With a not so close listen my dear fan will notice some dashes of Metallica and Slayer, for instance. Also "Then Came the Killing" has that guitar hammering that Megadeth made famous. This compilation comes with two neat CDs and the fan will notice at first listening that CD1 is the official released album and CD2 is from the demo by the difference of quality there is between the two. I mean, this 2022 remaster gave both a very high quality but notably "Frozen Soul" is a bit lower.
Album opener and tittle track "Then Came the Killing" gives a good hint of what will come in the album. It's the corrosive Thrash Metal that many do appreciate with some finesse in the guitars. Take a look at the guitar solo and the clean and inspired phrases. Second track "Ancient Terror" starts with that cadenced main riffing that soon turns into a carnage. The drumming goes fast and tight intertwined with those choruses Thrash Metal bands do love – well, so do I. It's hard to pick only one track here due to the monolithic traits of the album. One may think this is'nt great but I always say it means cohesion and character.
"Then Came the Killing" delivers that virulent Thash Metal most fans appreciate with some insane guitar solos intertwined with aggressive vocals. It wouldn't be that difficult to my dear fan pick Mezzrow as a dear band if they were still active. The band has that atittude and it's the real deal for sure. One big highlight to the guitars in both CDs. They are strong as hell and very well produced. It's possible to hear even the pickings from the guitarists Roger 'Zebba' and Staffan 'Staffe' Karlsson. Well, I'm assuming they are brothers just because they have the same last name. By the way, drummer Stefan 'Steffe' may be a brother as well. Looking to the available pictures of the band they do seem to be brothers but I'm not really sure even though I googled them.
Mezzrow "Then Came the Killing" will be released on May 13th via Hammerheart Records.
Track Listing:
Then Came the Killing
Ancient Terror
The Final Holocaust
Frozen Soul
Distant Death
Prevention Necessary
Where Death Begins
The Cross of Torment
Inner Devastation
CD 2 – Frozen Soul Demo
01. Frozen Soul
02. Prevention Necessary
03. Resurrection of the Beast
The Cross of Tormention Demo
04. The Cross of Tormention
05. Ancient Terror
06. Final Holocaust
07. Inner Devastation
Demo 1991
08. Silent Extenction
09. Echoes of Damnation
10. Blind Belief
11. Segregation of the Masses
Watch "Then Came the Killing" official music video: