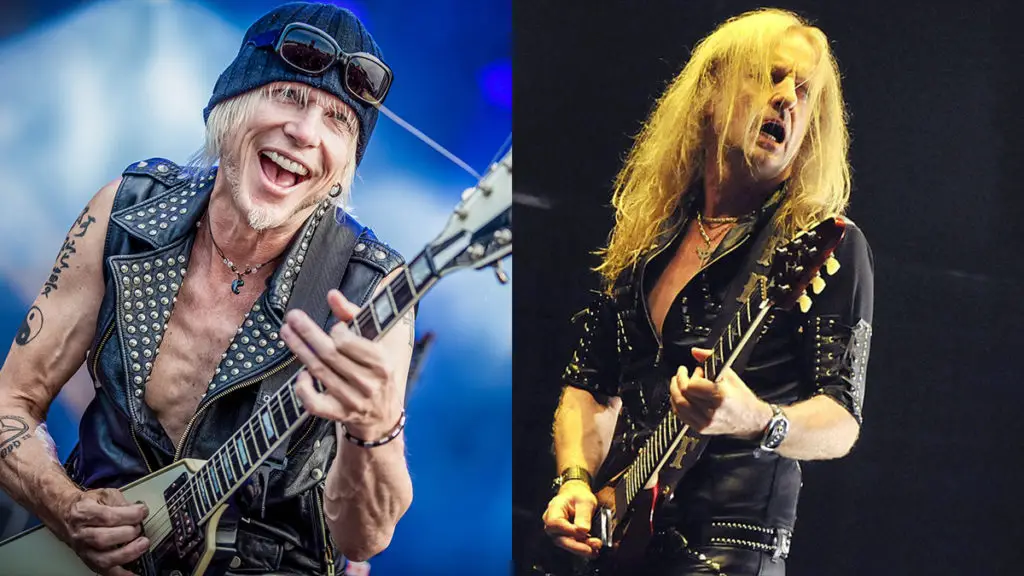 In a new interview with Canada's The Metal Voice, iconic guitarist Michael Schenker spoke about how he was able to influence an entire generation of guitar players that would define 1980s heavy metal.
After interviewer noted that several members of IRON MAIDEN have publicly acknowledged the inspiration they drew from his early recordings, Schenker said: "Yeah, it's all true. [MAIDEN bassist] Steve Harris is a complete Pete Way [late UFO bassist] fan. He even dresses like him. So does K.K. Downing from JUDAS PRIEST; [he] dresses like me.
"I went to the Whisky [A Go Go in West Hollywood, California] when I was 18 years old, when I was on my first American tour, and there was JUDAS PRIEST playing. And my girlfriend and I, we wanted to see, because we heard about that. And there was K.K. Downing, the guitarist from JUDAS PRIEST, having my perm and playing a Flying V [guitar] in almost an identical outfit. I mean, I looked at my girlfriend; she looked at me. It was like déjà [vu]; it was, like, 'What is this?' It was me again. I couldn't believe it; it was unbelievable."
In a last year's interview with Sonic Perspectives, Downing said that he was inspired to play a Flying V guitar at an early age.
"It stemmed from when I was a kid," K.K. said. "I saw the Flying V in the shop and I couldn't afford it. And I used to look at it. I was that Oliver Twist type of kid — [I] didn't have the money, but somehow I knew it was the guitar for what I wanted to do. And now, obviously, the Flying V is synonymous with metal and heavy rock. To me, there was never a question."