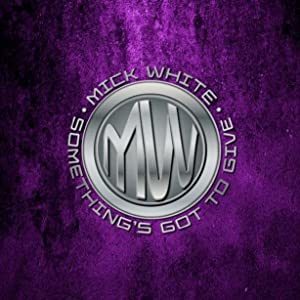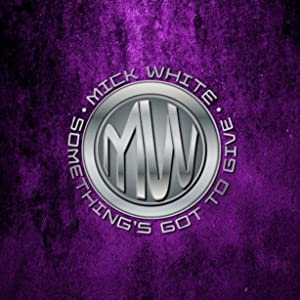 I've never hidden here that one of my weakest suits is 1980s Hard Rock. The more hard the rock is the more I like it. And if the album has some keyboards the more I like it indeed. As the press release says Mick White's "Something's Got to Give" has no shame in being so Hard Rock. Mick White's vocals can tell it much better. The taste of it is so 1980s, but so 1980s that the fan may think that anytime there will be no more internet and in front of a pick up player player the black vinyl album. Or worst, the cellphone vanishes and there is a pay phone in front of you. Just a way of saying it.
Of course, the guitars steal the scene as it is usual in this kind of album. They go from the most varied forms possible. Crunchy, loud, full of distortion, clean, chuggy, crispy –  sometimes I think I'm talking about food, not music. You, my dear fan, pick the one you like best. Big album opener "Burning in the Night" tells everything the fan wnats to know about the band and the album from head to toe. From its tittle to the keayboards and the guitars. There's no doubt of what kind of Metal music is in here. I really appreciate and respect that. It's clear to me that "Something's Got to Give" showcases that even the most rooted 1980s Hard Rock has a band that inspired the most. The band in question here is for sure Dokken. If memory serves me right, "Don't Close Your Eyes" tells this tale better than any other. That is so mostly because of the guitar riffs that address a lot to George Lynch's. There may be seen other influences in "Something's Got to Give" but Dokken is the strongest. But the guitars talk so much louder. They really sound George Lynch's a lot. And I tell that as a fan that doesn't know Dokken too much. But I get the feeling.
Melody is in all tracks here in "Something's Got to Give" as an undoubtedly truth. It's a trademark, a stapler, a reason to the music, a personality. No Hard Rock band escapes from it. Grand finale "Better Be Strong" tells this tale much better.
In the mood for some real rooted 1980s Hard Rock? If you are Mick White's "Something's Got to Give" is the answer to your prayers.
Mick White's "Something's Got to Give" was released on April 17th via Enghardt Media/EDEL.
Track Listing:
Burning in the Night
Something's Got to Give
Without You
Emergency on Planet Earth
Ordinary Girl
Altar of Desire
Sometime Superman
Hold Tight
You Poisoned My Love
Don't Close Your Eyes
Better Be Strong
Watch "Emergency on Planet Earth" official video here: