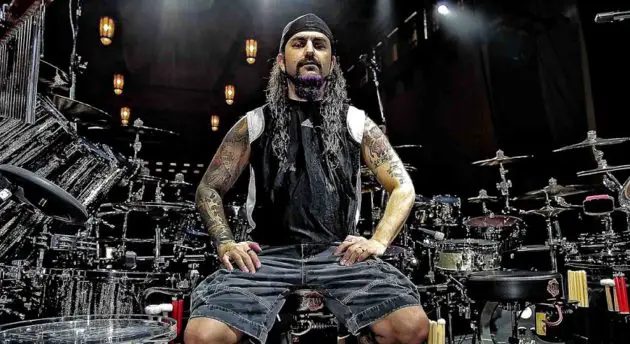 During an appearance on the Brazilian radio show "Bem Que Se Kiss" (via Rádio Kiss FM 92,5), Mike Portnoy described his LIQUID TENSION EXPERIMENT instrumental project as "DREAM THEATER without annoying vocals."
When the host stated about the project: "I think TENSION was good. But the problem is the language." Mike replied: "But that's what made it good. [It was] like DREAM THEATER without annoying vocals. It was perfect."
After everyone in the room started laughing, Portnoy said: "But we're not on the air, right?" To which the host responded: "Yes, we are, actually." Mike said: "Are we?" and cracked up laughing.
In the spring of 2010, Portnoy filled in for AVENGED SEVENFOLD's former drummer, Jimmy "The Rev" Sullivan, who died during the production of the band's fifth album Nightmare. On May 5, 2010, Portnoy released a statement on his status with AVENGED SEVENFOLD on their official website, concluding his working relationship with the band. 
On September 8, 2010, Mike Portnoy announced departure from DREAM THEATER. The band hired Mike Mangini to take his place after inviting and holding auditions with seven "world-class" drummers.
When AVENGED SEVENFOLD later decided to also sever ties with Portnoy, he announced that he had asked to return to DREAM THEATER, but was turned down by their lawyer since the band had already brought Mangini on board, and Mangini had left his tenured teaching position at Berklee College of Music to join the band.