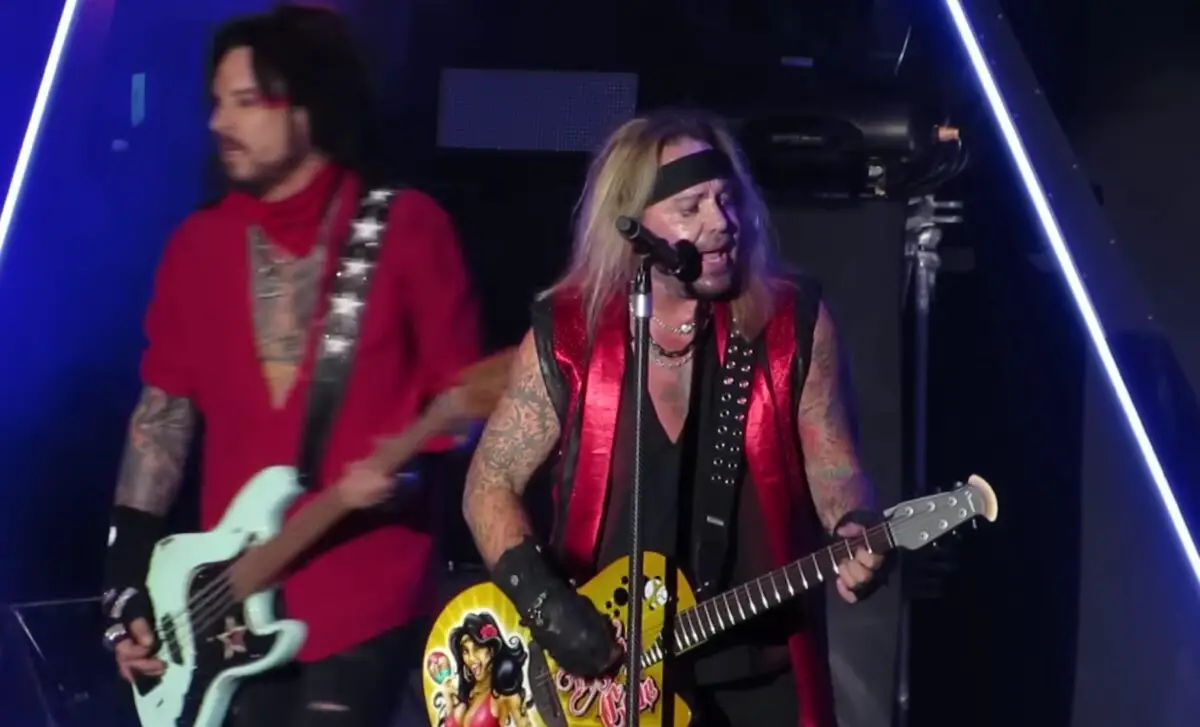 More footage has recently emerged that shows MÖTLEY CRÜE using pre-recorded tracks during their live shows. This revelation has left many fans disappointed and questioning the authenticity of the band's live performances.
While the use of pre-recorded tracks is not uncommon in the music industry, it is generally frowned upon when it comes to live performances. Fans attend concerts to see their favorite artists perform live, and the use of pre-recorded tracks can leave them feeling cheated and let down. It also raises questions about the skill and talent of the musicians themselves. Video footage can be seen below.
Earlier this month, MÖTLEY CRÜE guitarist Mick Mars gained attention as he filed a lawsuit against the band, alleging widespread use of backing tracks during live performances and accusing bassist Nikki Sixx of manipulating him into thinking he had lost cognitive abilities and guitar skills.
In the lawsuit, Mick alleges that MÖTLEY CRÜE reduced his share of earnings from 25 percent to a mere 5 percent after revealing his decision to withdraw from touring. Additionally, he states that the group's attorneys made him feel as if he should appreciate this minimal portion, as they believed they had no obligation to provide him with anything. Mick also asserts that a complete band gathering took place where they chose to "unilaterally" exclude him from MÖTLEY CRÜE.
Mick consistently alleged that bassist Nikki Sixx was "gaslighting" him by suggesting his guitar abilities were declining, even though Sixx didn't "play a single note on bass" throughout a recent tour, as stated by the guitarist. Mick asserts that all of Nikki's segments were pre-recorded.
In a recent interview with Variety, Mars referenced his claims in the lawsuit stating that all bass segments were pre-recorded and certain portions of vocals and drums were not performed live.
"Yes, on this particular tour, Nikki's bass was 100% recorded. Tommy's [Lee] drums, to the best of my knowledge, there was a lot," Mars said. "I can't say he did all of it recorded, but there were some reports from people in the audience that said, 'Oh, I heard the drums playing, but there's no Tommy on there. The song started, and there's no drummer.' Stuff like that. And actually everything that we did on that stadium tour was on tape, because if we didn't, if we missed a part, the tape would keep rolling and you'd miss it.
"Anyway, that was the worst 36 gigs ever had with the band," he added. "It was 36 [instead of the originally scheduled 12] because they knew I wanted to retire from it after that. [Mars says in the suit he did not want to do the extra two dozen dates that got added but went along with it.] I don't know, and I can't say I positively know, but I have a pretty good feeling that they wanted me gone anyway. Because they've been wanting that since forever. It's just frustrating for me. I'm pretty upset that they're even pulling this crap, when I carried these b*stards for years."