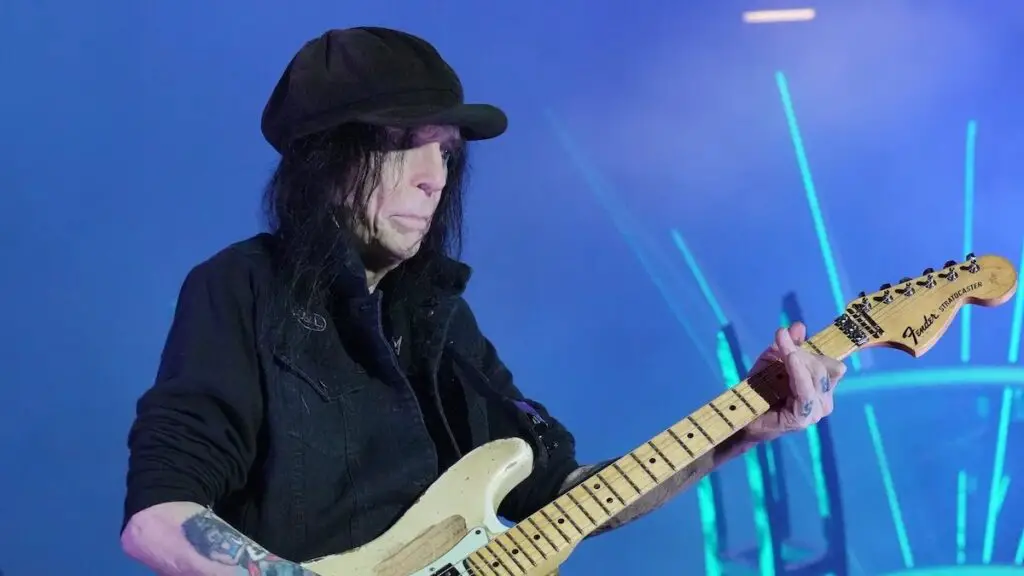 Country-rock artist Cory Marks had the chance to spend time with MÖTLEY CRÜE guitarist Mick Mars recently, and he reported that the musician's upcoming project "sounds huge."
Yesterday (February 5),Cory took to his Instagram to share a few photos and a short video of him with Mars at Mick's home studio in Nashville, Tennessee, and he included the following message: "Spent my Saturday hanging out with one of the coolest, sweetest, most kind down to earth bad as*es on this planet that I'm lucky to call a friend. So many stories and a lot of laughs talking music, guns, planes, guitars, drums, travel, road stories (he's got cooler ones than me),health, fitness, zombies, sex, drugs and rock and roll! I now know a lot more about @motleycrue @slash @therollingstones @defleppard and the on and only @ozzyosbourne … yes… If you're wondering Ozzy did snort a bunch of aunts…
"@mr.mickmars THANK YOU for having me over and letting me hear your new project…which sounds HUGE. The rock world is in for something weird, special, great and LOUD. Surreal walking into your studio and the first thing I see is a gold record on top of a bunch of @marshallamps stacked up together with my face and name on it and I'll be sending you a couple more very soon. Don't be surprised if you see Mars & Marks on more songs together down the road… Outlaws And Outsiders forever."
Last November, legendary drummer Carmine Appice, best known for his work with VANILLA FUDGE, CACTUS and Rod Stewart, said that Mars is planning to finish his solo album and do some touring.
He revealed during an interview with Michael's Record Collection: "I talked to Mick Mars, who's been touring with MÖTLEY CRÜE. He just gave up his seat in touring with MÖTLEY CRÜE. And John 5 is gonna tour with them. He said, 'Man, we did our final tour [seven years ago]. Now we're out again doing this major tour with DEF LEPPARD.' And he said, 'I don't wanna do it no more. I'm sick of being in a bus.' He said he's gonna do a solo album and go out and do some gigs. I said, 'Look, if you need anyone to play drums, I'll play with you.' He goes, 'That would be great.' So maybe I'll do some gigs with him. But it's not gonna be big tours. It'll be a weekend maybe somewhere and then go home. Two weekends later maybe a weekend and go home."
As previously reported, Mick Mars has retired from touring with MÖTLEY CRÜE due to worsening health issues, and has been replaced with John 5. Mars still remains as a member of the CRÜE, but he will not participate in any touring activities.