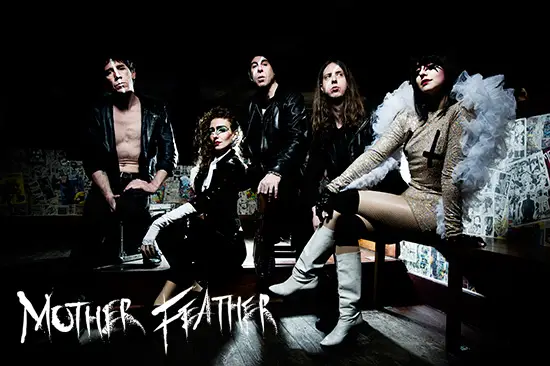 Currently finishing work on their sophomore album with Grammy-nominated producer Joshua Valleau (Kanye West, John Legend, Snoop Dogg, Common, Imani Coppola, Alice Smith), Mother Feather has launched a new lyric video for the track "Egyptology" (by Isaiah King / ikingdesign.com), which can be viewed below.
Mother Feather front-woman Ann Courtney says of the song, "I wrote 'Egyptology' after doing an archeological dig of my soul. It's pure pop myth–if ancient Egypt looked like the Bowery in 1970's NYC. It's a story of rebirth into a supremely fabulous rock and roll afterlife." Of the new lyric video, Courtney says, "Isaiah King has been a trusted collaborator ever since we made the 'Mother Feather' video together. We knew he could build upon the amazing work he'd done with the 'Egyptology' single cover artwork, and he blew us away with the final result. It didn't hurt that he'd taken a trip to Egypt a few years before and had sketchbooks full of incredible material to incorporate."
Mother Feather will release their upcoming album in 2018 via Metal Blade Records. "The newest songs for the album were written last fall and winter in the midst and aftermath of the US presidential election," Courtney comments. "The political climate and outcome were personally devastating, but it also re-ignited my sense of purpose. I locked myself away to write, face my depression, and stare down some uncomfortable feelings. Truthfully, I went to some very dark and lonely places. So there's a lot of fever – and intimacy – in the new music. When I emerged from my self-exile, I discovered my band waiting for me on the other side, so there's exuberance and catharsis there too. It's good to have friends, ya know?! Together, we worked to develop the songs and shape them into some of Mother Feather's best, most eclectic work yet. We couldn't be more excited for this opportunity to continue our work with Metal Blade."
Mother Feather released their self-titled album last year via Metal Blade Records; for their efforts, the group has garnered massive buzz for their unique brand of rock, vibrant Bowie-esque costumes and makeup, and enthralling live show. Having been featured on IFC.com, TeamCoco.com, and HuffingtonPost.com (who declared them as "a great New York City band in the tradition of Great New York City Bands"), Mother Feather was also named "new band of the week" by Metal Hammer, and has received much play on Daniel P. Carter's Rock Show on BBC Radio 1. To preview and purchase Mother Feather, please visit: this location.