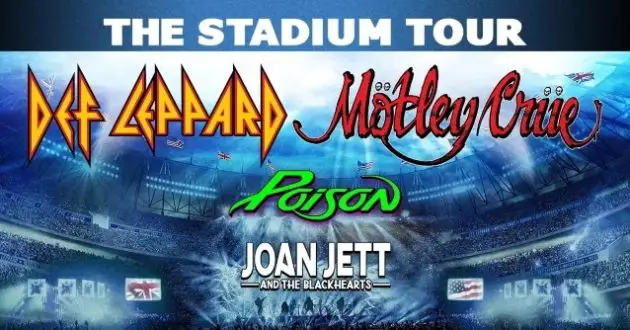 "The Stadium Tour," featuring MÖTLEY CRÜE, DEF LEPPARD, POISON and JOAN JETT & THE BLACKHEARTS is still going according to plan, which means it should kick off on June 19th in Nashville, TN, and will last until September 12th when will it end in San Diego, CA.
At the moment of writing this post, none of the bands has issued any statement regarding the tour, so it seems that the tour will indeed start as planned.
However, just several days ago, MEGADETH and LAMB OF GOD and moved their "The Metal Tour Of The Year" to August, which was originally intended to start in July.
Even if "The Stadium Tour" end up rescheduled it will probably be for couple of months at most. You can find full dates and tickets at this location.
In an episode of Zane Griggs's "Hunger Hunt Feast" podcast last October, MÖTLEY CRÜE frontman Vince Neil spoke about the immense public interest in the band's "The Stadium Tour."
"It's a nice feeling, that so many people want us to get back together," Neil said. "Because we basically broke up five years ago — we basically called it quits and said that it was a good run, it was a lot of fun, okay, we're done.
"So I continued to tour with my solo band up until COVID, and now I've had basically almost a year off because of not being able to tour with my solo band. 'Cause everything got shut down — everything. But it looks like it's loosening back up.
"I have a couple of solo shows coming up in the next couple of months," he continued. "It's gonna be fun just to get back and sing a little bit. I've never gone this long without performing or singing in my entire life, since I was 16. So it'll be fun to just get back out there.
"A lot of people were pretty bummed out when we decided to retire, basically. The excitement around the tour has just been pretty amazing. We have fans that maybe we didn't know we had.