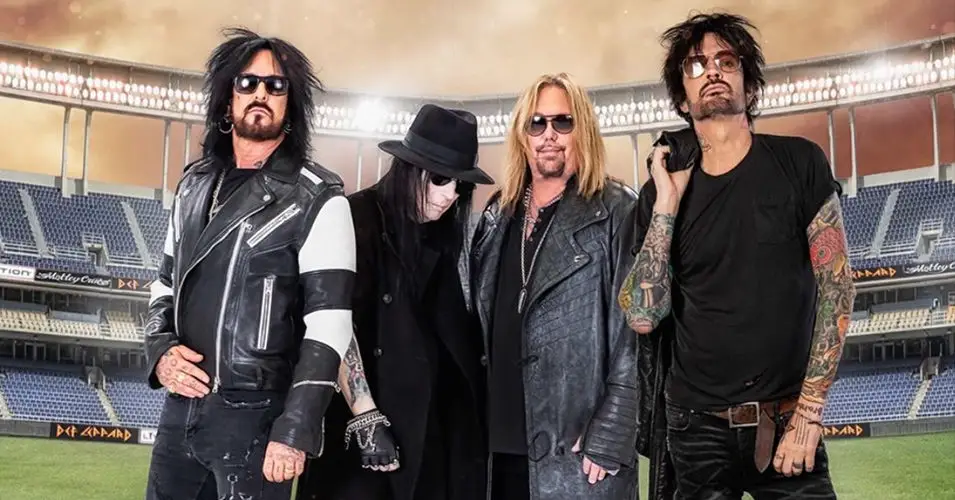 MÖTLEY CRÜE bassist Nikki Sixx that the band is planning to expand their "The Stadium Tour" tour with DEF LEPPARD to other parts of the world.
Nikki took to his Twitter to lament the fact that there are only 10 shows left on MÖTLEY CRÜE's current run with DEF LEPPARD, POISON and JOAN JETT & THE BLACKHEARTS, saying it's "going way too fast."
After one fan asked Sixx "what's next" for the CRÜE and whether there will be dates elsewhere, including in Australia, to which Nikki replied: "We are working on SA-Mexico-Europe-UK-Asia- etc etc."
Earlier this year, DEF LEPPARD guitarist Phil Collen was asked if fans can expect to see the band touring South America in support of their latest record, Diamond Star Halos.
He answered: "Definitely. Obviously, this year we're touring the States with MÖTLEY CRÜE, POISON and Joan Jett. And that starts in a couple of [weeks]… But the tour is gonna be three years — at least three years — for the album. [We're doing] America this [year]. Definitely next summer is gonna be Europe. And then South America, Australia [and] Japan — next year, hopefully at some point, we'll be playing all of those markets."
On whether if the same package of bands that touring U.S. will be touring through other countries, Phil said: "That's what they're talking about. Obviously, I can say, 'Yeah, let's do that,' but we've gotta ask them as well. But I think MÖTLEY CRÜE have signed up. So hopefully that's all gonna come, and Joan Jett and POISON. That would be amazing."
Remaining dates and tickets for "The Stadium Tour" can be found here.