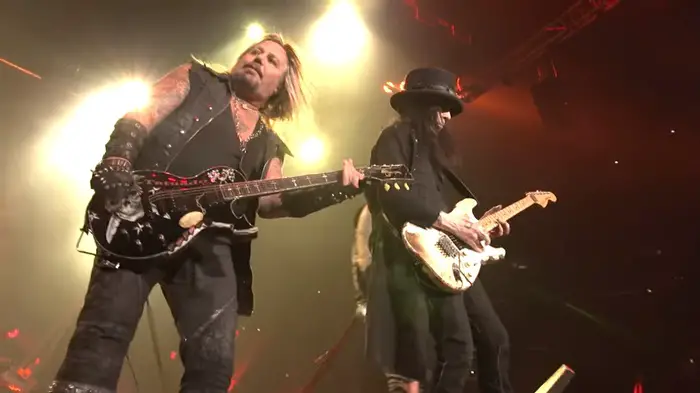 MÖTLEY CRÜE have issued a teaser from their upcoming concert film which will premiere in theaters in Spring 2016 for a one-night-only stand and on Pay Per View. The teaser can be streamed below (originally premiered on Billboard.com).
MÖTLEY CRÜE played their final two shows of their thirty-four-year-long-career on New Year's Eve at Staples Center in their hometown of Los Angeles. To celebrate their mark in rock music's history and in honor of their devoted fans, the band announces a full length concert film of the final performance, which will also include exclusive interviews and behind-the-scenes footage of the last week of the tour, to be released in 2016!
Christian Lamb has been tapped to direct the concert portion of the film, while Jeff Tremaine, creator of the Jackass series, is confirmed to direct the documentary segment. Produced and distributed by Live Alliance, the film will premier in theaters worldwide, as well as via Pay Per View in all cable/satellite/digital formats.
https://www.youtube.com/watch?v=i83y07KMkl8