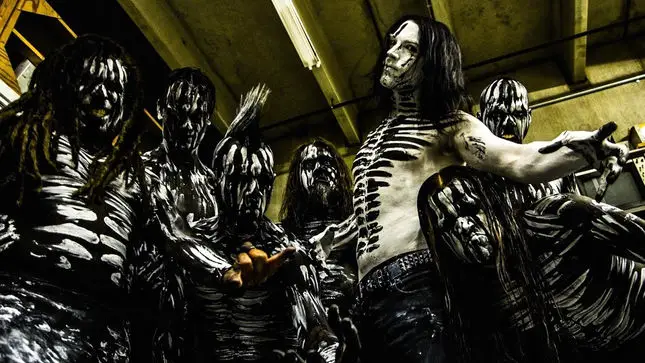 MOTOGRATER have signed to EMP LABEL GROUP, who will release "DESOLATION", the bands highly-anticipated sophomore album, produced by Ahrue Luster (Ill Nino/Ex-Machine Head) and mixed by Joshua Wickman (Within the Ruins, KING 810). The album was engineered by Luster, Wickman, and Jon Berrier, and recorded at Illustrious Productions, Dreadcore Productions, and BlackPlate Productions. Art for "DESOLATION" was created by "Mister Sam" Shearon. You can see it below.
"DESOLATION" marks the band's first full-length album since the 2003 Elektra/No Name self-titled release featuring Ivan Moody (Five Finger Death Punch) on vocals (Motograter is now fronted by JAMES ANTHONY LEGION (Deadform/The Breathing Process), and signing to EMP LABEL GROUP has brought that excitement full circle, according to label operations manager/A&R Director Thom Hazaert.
"I was actually in (the late) Steve Richards (No Name Records) office the DAY he signed Motograter. And he was SO excited, going on and on about this amazing new band he just signed, that made their own instrument (The Motograter) etc.. Steve was such a cool and infectious guy, and brought such an amazing energy to everything he did, and to this day, that stuck with me. And now to be able to come back full circle and put out Desolation on EMP, all these years later, and kinda continue that legacy with the current lineup, is really an amazing middle to the story. These guys have worked SO hard for so long, and it is an honor to sign a band that works as hard as MOTO does. Motograter, literally, should be the blueprint any hard touring independent band should follow."
MOTOGRATER drummer Noah "Shark" Robertson adds: "We are honored and very proud to be working with David Ellefson, Thom Hazaert, and everyone else at EMP Label Group. We have fought tooth and nail to bring people new Motograter music. We can't wait to unleash this voracious beast that is 'Desolation' upon the masses."
Additionally, MOTOGRATER has signed an exclusive deal with JLS Artist Management, currently the management company of record for Dope and Flaw. JLS is run by former Rock Ridge Music label president Jason Spiewak. Spiewak says "We are stoked to have this opportunity to work with Motograter. These guys are road dogs, ready to work hard and deliver a great record".
MOTOGRATER IS:
James Legion – Vocals
Matthew "Nuke" Nunes – Guitar
Jesse Stamper – Guitar
Mylon Guy – Bass
Noah "Shark" Robertson – Drums
Dustin "Skunk" Anderson – Motograter