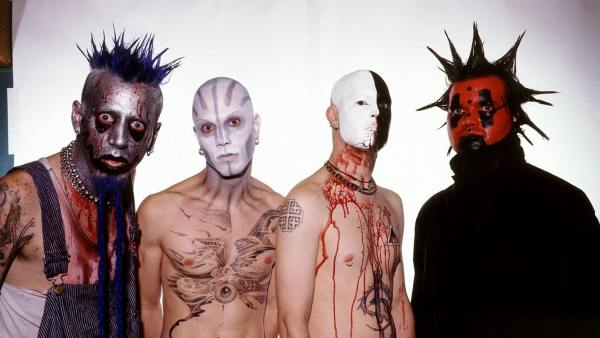 Music tour prognosticator and the occasional scourge of the music industry,  Wolverine Kills, has shared a post that that Nu-Metal legends  MUDVAYNE are planning to reunite, and that reunion has been announced!
MUDVAYNE will appear at four major festivals this fall helmed by concert promoter Danny Wimmer Presents: Inkcarceration, Louder Than Life, Aftershock and Welcome to Rockville. The Inkcarceration performance is being billed as a headline. You can see the dates below. And also see the Louder Than Life teaser video below.
MUDVAYNE posted the following: "These symptoms suggested that our evolution, I suppose, from the animal kingdom into human kingdom itself was catalyzed or triggered by our encounter with these hallucinogenics, and… Yes, we are an ape with a symbiotic relationship to a mushroom, and that has given us self reflection, language, religion, and all the spectrum of effects that flow from these things And one can only wonder how these hallucinogens might effect our future evolution as well They have brought us to this point and as we make our relationship to them conscious, we may be able to take control of our future evolutionary path"
Inkcarceration
September 10 – 12
Aftershock
October 7 – 10
Louder Than Life
September 23 – 26
Welcome To Rockville
November 11 – 14
The full Inkcarceration lineup announcement will follow tomorrow. It remains unclear whether MUDVAYNE plan to perform any dates outside of these four festivals.
The band consisted of Chad Gray (lead vocals), Greg Tribbett (guitar, vocals), Ryan Martinie (bass guitar) and Matthew McDonough (drums). Since 2010, the group has been inactive, with its members performing in other projects and making guest appearances. Chad Gray is the vocalist for the heavy metal supergroup HELLYEAH, of which Greg Tribbett was also a member until 2014.