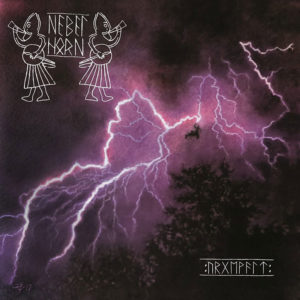 There is an informal urban legend that says that any worth noting German band should have at last an anthemic song in each album. In fact, there is some gossip about a band which does much more. A band that is the perfect match between harsh vocals and extremely delicate classical textures. A band which mixes distorted guitars, French horns, and flutes. So they say. Yet, it is no legend. There is such a band.  Its name is Nebelhorn and the album is "Urgewalt." Nebelhorn wrote an entire album of anthemic songs. "Urgewalt" is full of exciting, strong, and dazzling songs. Add to that the fact they sing in German, which makes songs harder and harsher.
But a question arises: Can a band mix pompous and grand orchestral parts with black metal and still be cruel and vicious?
The answer is a big sounding Yes! Play "Wilde Jagd" first. It'll make your neck twist. Pounding drumms, screaming guitars, and harsh vocals. No need for anything else. And if you are still alive, go on with the killer "Muspellheim," a jaw-dropping black metal tune with pompous twisted choruses. But the finest comes with "Auf neue Lande," a song that pays the respect to all those great anthemic German bands like Accept, Running Wild, and Tyrant. I bet you will raise your fist, bang your head and yell to it even though you can't understand a word. But that's the beauty of Metal. There are no language boundaries. It could be in archaic Babylonian and we would still bang our heads. Hum, on second though, that would be great. Pay attention to that and write the suggestion down, guys!
But, hey, it's not the end of it yet. There is also "Funkenflug" and its classic metal grip with strong chorded guitar riffing and a a great guitar phrase in the lead. The flute intro is also a killer. Groundbreaking. Well, the last, but not the least, is "Freyhall" and its "Animals" era Pink Floydish guitar. Another anthemic song.
Yeah, my boys and girls, I lived enough to see a black metal band praise nature and write anthemic songs.
Track Listing:
Auf Bifrösts Rücken
Urgewalt
Ägirs Zorn
Wilde Jagd
Muspellheim
Auf neue Lande
Funkenflug
Freyhall
Watch Nebelhorn "Urgewalt" teaser here: