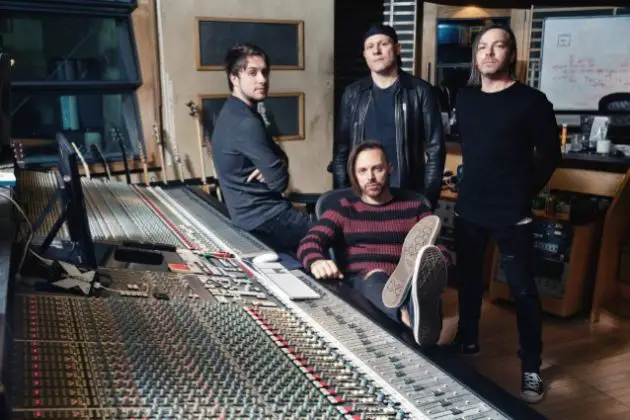 Matt Tuck says that BULLET FOR MY VALENTINE's forthcoming sixth album is "a corker" which will "take a lot of people by surprise" when they first hear it.
Due early next year, the follow-up to 2015's "Venom" will mark the band's full-length recording debut with new drummer Jason Bowld (PITCHSHIFTER, AXEWOUND), who has been touring with BULLET FOR MY VALENTINE for the past two years, and bassist Jamie Mathias(formerly of REVOKER), who joined the group after the last disc was completed.
Tuck told NME that he "definitely" took the lead in the songwriting department on BULLET FOR MY VALENTINE's new album, explaining that he "had a bit more of a vision" than the other guys on what he wanted the record to be like.
The guitarist/vocalist said that he and his bandmates "tried to make [the upcoming BULLET FOR MY VALENTINE disc] a different-sounding record, we've tried to approach songwriting differently, and a bunch of stuff. We don't wanna regurgitate anything we've done in the past," he said. "That's the past — we wanna look forward to the future. We tried to make things bigger by calming things down on the technical side. So we've still got really big, massive heavy groove songs, but instead of being super-thrashy and technical on the guitar, they are far simpler and far more digestible, but it gives you a far bigger sound."
Noting that "every album," for him, "has a purpose, and every album has its own moment in time," Tuck said: "I don't think anything we've ever done sounds like something we've done before already. And as a songwriter and a creative person, that's what excites me and that's what motivates me — to make things different and to challenge ourselves and to challenge myself as a songwriter and a musician and a lyricist and everything, to not do things that are boring and are stale and I've done before. And that is really challenging… That's what keeps me motivated — the challenge of recreating the band's sound and pushing myself creatively."
Consequently, Tuck believes that BULLET FOR MY VALENTINE's new album will "initially take a lot of people by surprise by the way it sounds and the instrumentation that we've incorporated into it this time. But I think as soon as the dust settles and people get to live with it, it's a corker — it rocks," he said. "We're very happy with it."
Asked about the lyrical themes covered on BULLET's upcoming disc, Tuck said: "There's a lot of stuff that will be very self-explanatory when people hear it. I don't wanna say too much about it yet 'cause it is very early days, but it's a very personal record for me. It's got highs and it's got very dark lows. But it's very real, and I think people will relate to it."
BULLET FOR MY VALENTINE's next effort will be released through the band's new label home, Search And Destroy, the imprint launched in 2014 by Spinefarm and international artist management company Raw Power Management.
The group made its split with founding drummer Michael "Moose" Thomas permanent earlier this month. Thomas, who took a leave of absence from the group in November 2015, was replaced by Bowld, who has been behind the kit since Thomas's exit.
Source: Blabbermouth.net