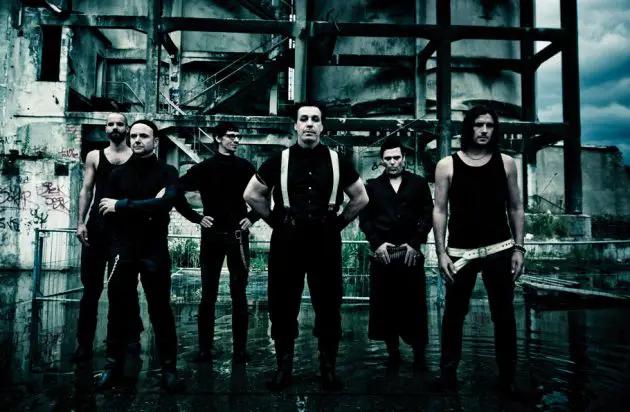 RAMMSTEIN guitarist Richard Kruspe says that the band's upcoming album could be its last.
The German industrial metallers are working on what will be their seventh studio disc — and in an interview with Resurrection Fest in July, Kruspe spoke about how the follow-up to 2009's "Liebe Ist Für Alle Da" was shaping up.
"I was very skeptical to go back with RAMMSTEIN into the studio, because last time we almost broke up because of making a record," the guitarist admitted (see video below). "So it's just always very, very stressful and painful. And I think going through that experience, I was a little nervous about that. And we came up with a deal, or an agreement. We said that we wanna go back and only record maybe five songs, to not put any pressure on us.
"We started, like, two years ago, and I can say just playing with the guys, for some reason, it was very natural and I had a lot of fun," he continued. "And since then, we've just created around twenty-eight ideas — I wouldn't say 'songs,' but ideas. And somehow we managed to move back to the beginning of the world of RAMMSTEIN where we, basically, are very emotional and very enthusiastic about writing again. It wasn't like that before. We came back to a point that everyone is really respecting the other one, and it feels kind of like a circle almost, that we start from zero again, which feels nice. It's kind of like you've been through all the problems, which you have when you play with the same lineup for twenty-two years, which is difficult. A lot of bands, they can't really stay there, they're changing people, and we don't really believe in that. We've been through a lot of downs, and there were probably a lot of moments where I felt like, 'I don't wanna do it anymore, I don't wann be in a band anymore,' but somehow we've managed it, through talking and communication, to stay together. So here we are, writing and feeling very good about it, so I'm pleased."
Focusing on the overall direction of the new material, Kruspe said:
"Of course, a band wants to always do the best album [it can] do at the moment. This time, what we're really gonna do is we'll try changing the producer team. We've worked with our producer for the last six records, and this time we felt like we need a chance, so at the moment we're meeting new producers and finding what is the best for the team at the moment.
"I just feel like, for some reason, that it's gonna be the last record we do. That's a feeling — I can be wrong, but just at the moment, I feel like this is maybe the last [shot at making an album] we have, and I wanna give two hundred percent in that and make it as good as it can be," he added. "When I listen to the stuff, there's so much potential, and I'm very pleased about what we do at the moment. So I'm looking really forward to start recording maybe next year."