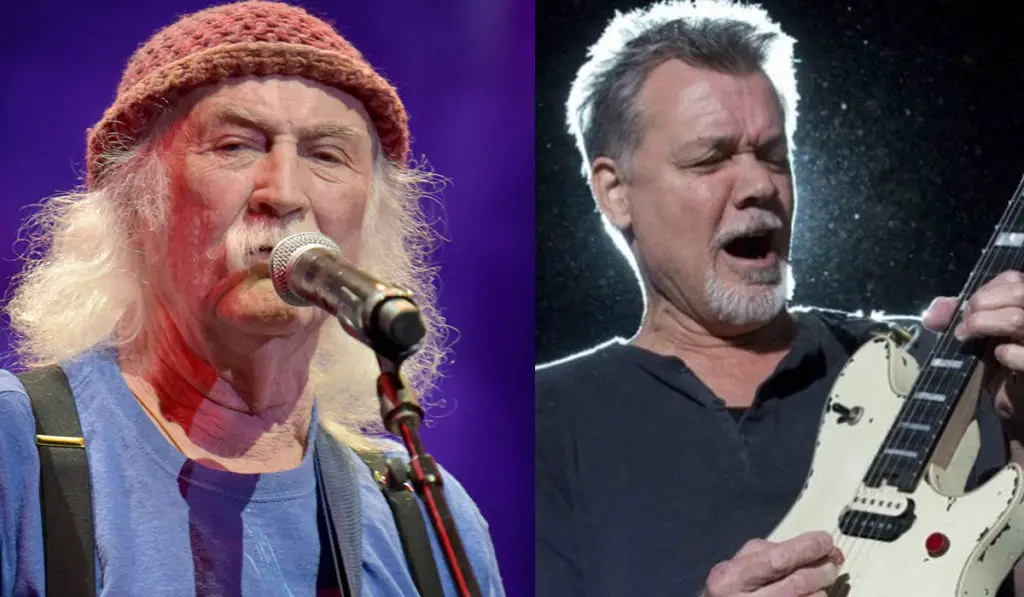 As previously reported, David Crosby of CROSBY, STILLS, NASH & YOUNG shared a brutally honest opinion on the late Eddie Van Halen, saying that the music of the late guitarist simply wasn't for him.
Eddie Van Halen passed away on October 6 after long battle with cancer.
When asked by a fan on social media, "What's your opinion on Eddie Van Halen," Crosby simply responded: "Meh…"
His bluntness was seen as out of line by a number of other Twitter users, including TESTAMENT guitarist Alex Skolnick, who wrote: "I appreciate @thedavidcrosby too much for this to get in the way, but a much better answer would have been: 'I know he meant a lot to so many but his sound & style just weren't my thing.'"
Skolnick also added that American singer-songwriter Patti Smith, who has never appeared to be much of a VAN HALEN fan either, still managed to post a polite note following Eddie's passing.
L.A. GUNS axeman Tracii Guns slammed Crosby, writing: "Wrong answer as f*ck and rude as f*ck!!! There are better ways to say you don't care for someone's music. That was very disrespectful. And yes straight out f*ck you and your smug answer."
Crosby later clarified his comment: "Hendrix changed the world of guitar. Nobody else really… look I get it… many of you loved Van Halen… and the one time I met he was nice… and he was talented…
He added: "Meh to me means I don't care that much… and I don't… doesn't mean he wasn't good, he was but not for me."