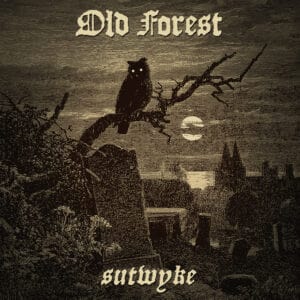 Old Forest does sound as the name of Black Metal band. The time I got my eyes on Old Forest "Sutwyke" I knew it would a modern Black Metal outfit, but, of ourse, I couldn't tell the quality. I was surprised by the supreme quality of it. Old Forest do know how to balance faster moments with moody ones. When I say modern Black Metal I mean that its sonancy goes far beyond the Second Wave of Black Metal. It's not that fiercy, not that bloody, not that raw. The music here is far more complex and intricate. The moods are also more varied allowing Old Forest to use different kinds of vocals and textures. There are lots of strummings incoporated with the rhythm guitars with an interesting change of cadences. Overreacting a little, eeirie vocals out and the album could be any other Metal album. On the other hand, "Sutwyke" is very intense with high adrenalized tracks. The combination of eerie vocals with the way Black Metal guitar organize their playing is really something that stands out. The band does that pretty well here. The initial notes of "Witch of Prague pt. 1" has a keyboard and some bass lines that do address to Emerson, Lake, and Palmer. Could you my dear child of the night imagine Emerson, Lake, and Palmer in a Black Metal band. Few years ago I could never. Purist Black Metal fans would love that. The gritty and eeirie vocals are mixed with clean and enchanted ones in order to make a big contrast and surprise the fan with unsual textures. The intention of the duo doing the clean vocals is to be a kind of clerical voices in some kind of mass. "Witch of Prague pt. 2" begins with them nand goes almost all the time with them. The same happens to grand finale "Effigies to the Flames" which mixes some Prog Rock keyboards with 1980's guitars using digital delays with some high notes to sound even higher. Not so usual for a Black Metal band but it works so fine as a matter of fact.
"Sutwyke" isn't for a Black Metal purist. That's for sure. It's more for the fan that have the minds open to new and unexpected combinations into Metal music. There is some kind of a haunting beauty in all the album. A good album to show to that friend that wants to get to know Black Metal and its essence. It's interesting how the cover is able to sum everything up and showcases the album in a snapshot.
Old Forest "Sutwyke" will be released via Soulseller Records.
Track Listing:
Faust Recants (Satan Cometh)
Black Hearts of Sutwyke
Zodiac of War
Winter Years Begin
Master of Arachnids
Witch of Prague pt. 1
Witch of Prague pt. 2
Effigies to the Flames
Watch "Faust Recants (Satan Cometh)" official video here: