The first clip featuring footage of the recording sessions for "White Devil Armory", the new album from New Jersey thrash metal veterans OVERKILL, can be seen below. The CD will be released on July 22 in North America via eOne Music and on July 18 in Europe through Nuclear Blast Records. The effort was tracked at Gear Recording and was mixed by Greg Reely, who also worked on 2012's "The Electric Age".
The limited-edition box-set version of "White Devil Armory" includes a digipack CD, a leather belt and buckle plus a certificate of authenticity.
OVERKILL recently filmed videos for the songs "Bitter Pill" and "Armorist" with veteran director Kevin J. Custer (HATEBREED, TESTAMENT, SUFFOCATION). Custer previously worked with OVERKILL on the "Electric Rattlesnake" and "Bring Me The Night" clips.
"White Devil Armory" track listing:
01. Freedom Rings
02. Where There's Smoke…
03. Pig
04. Armorist
05. Down To The Bone
06. Bitter Pill
07. King Of The Rat Bastards
08. Another Day To Die
09. It's All Yours
10. In The Name
Speaking to Steppin' Out magazine, OVERKILL vocalist Bobby "Blitz" Ellsworth stated about "White Devil Armory": "The new record has a blend of what we've done over the past half decade. I'm noticing it's a more punchy heavy metal record with more dimension than the last record had. Where is it going to end up on the food chain? I really don't know. But my feeling is it's an eclectic collection of moments from us. 'The Electric Age' came across, to me, as kind of a two-dimensional thrash record. This one is punchy but has a whole different bunch of ways to go and things to hear on it."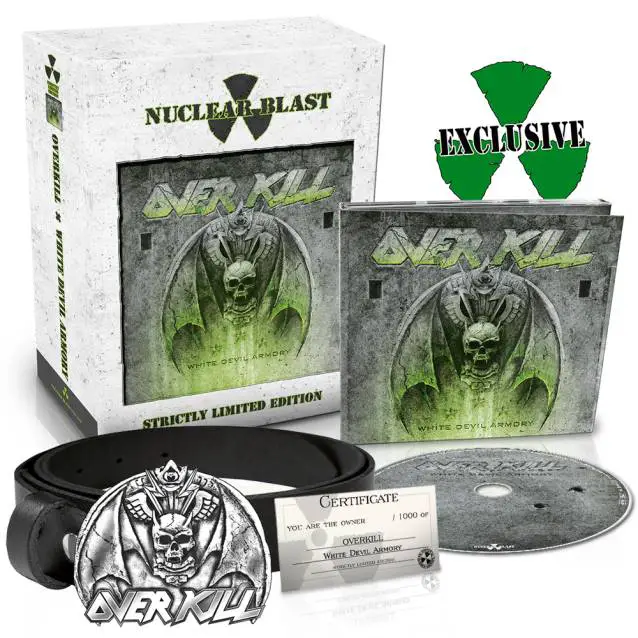 Source: Blabbermouth