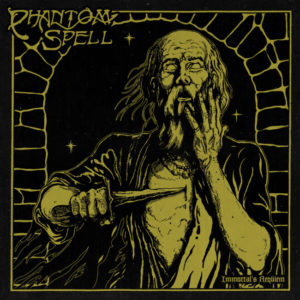 Sometimes to get to write a review i very difficult. One listens, and listens, and goes on and on listening to the album looking for all the relevant – or curious sometimes – details in order to get the words to describe the music. The problem is that at times the album is a complex mix of current and antique techniques, a mix of moods and full of layers and layers of sound that to pick only one gets real hard. There is also the matter of the guitar overtones and the keyboards that mix the aforementioned techniques with overtones that were used in the 1970s and sometimes in the 1980s. Yeah, there is too much to discuss about this Phantom Spell "Immortal's Requiem" and I haven't mentioned the influences the band's got here yet.
First time I heard the album I thought that it would be more simple to invite my dear fan to close the eyes and listen to any track and address it it to Iron Maiden's "Seventh Son of a Seventh Son" and that would be it. Ah, how nieve I was. How simple that would be. But this world of Metal bands and albums is never that simple. Only haters and laymen think Metal music can be subdued so simple like this. The reality is always much more complex. Track after track I kept trying to get to what band Phantom Spell address to besides of Iron Maiden and the answer I got was Blue Öyster Cult and a little Uriah Heep. Blue Öyster Cult due to the guitars overtones and the melodic vocals besides the way the songs are arranged and written. Uriah Heep for the way the keyboards are used and for the melodic vocals as well. That only would give so much discussion.
"Immortal's Requiem" is a travel to what may be called protometal with a large contribution of Prog Rock. To some extent, Prog Rock takes the lead here as in album opener and tittle track "Immortal's Requiem" whose sweet and melodic keaboards and guitars steal the scene. I tended to remind Evership, a Prog Rock band that we reviewed here. The Iron Maiden contribution starts soon after opener track ends and melts with "Dawn of Mind" with the melodic and full of Delay pedals. That's when I thought it would simple to invite my dear fan to close the eyes and think Iron Maiden's "Seventh Son of a Seventh Son" just because. I'm still not satisfied with the Blue Öyster Cult and a little Uriah Heep explanation because vocals I think delivers something more that I simply can't remember. It's not Marillion. Maybe Angel Witch, but I'm not really sure. And there goes the album. I have to say that any metalhead should listen to it.
Phantom Spell "Immortal's Requiem" will be released on August 19th via Wizard Tower Records.
Track Listing:
Immortal's Requiem
Dawn of Mind
Seven Sided Mirror
Up the Tower
Black Spire Curse
Blood Becomes Sand
Moonchild (Rory Gallagher)
Keep on Running (Alternate Version)
Watch "Seven Sided Mirror" official track video here: