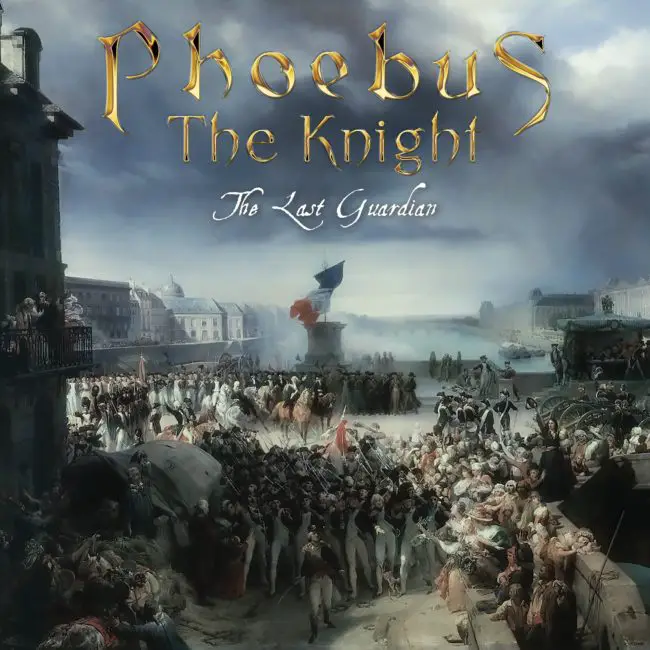 We all know that Symphonic Metal bands are bold, to some extent overproduced, grand and prone to rip up the frets. This applies not only to the music but also to the image and whatever is related to it. This is so due to the classical music influences that prone to all that means  and is relative to operatic influences. Here we've got Phoebus the Knight with "The Last Guardian" that address to all of this. From the album cover to the music everything in "The Last Guardian" reminds the fan of the Frecnh Revolution which by the way it's a theme that is so scarcely explored by Metal bands. I now remember only one or two albums inspired by the theme.
In general I don't like to the use the words of the press release but in this very especific case I'll open an exception. Here it goes. "The songs tell the beginning of the French Revolution, how the Beast, main Phoebus' antagonist and Vampire Lord, will attack the dwarf city of Baraz Dûm in Iceland to trigger the eruption of the Mount Laki volcano that will have terrible effects on the agriculture and people of France and that will eventually lead to the Revolution. They tell how the Beast and the vampires, infiltrated in the crowd, will manipulate the people to lead them to violence during La prise de la Bastille and make the first head fall. They also tell how Phoebus and the Knights of Heliopolis will participate in the signature of the Declaration of human rights and, finally, how the Beast will kidnap one of the most important ally of the light, the Iron Queen, the last guardian." Great story, isn't it?
Besides all this I recommend "The Last Guardian" to my dear fan who likes vocal variations. This album is full of them. From the operatic male and female to harsh and hard vocals. There is also the storytelling in English and French between all the four tracks of this EP. As expected from all I said above the music in here is grand and epic. To some extent it's possible to say that it's kind of exaggerated as opera, the great influence of the album, is. "The Last Guardian" delivers all the emotions both genres, metal and opera, can deliver the fan. If my dear fan allow a comparison Phoebus the Knight are a Rhapsody of Fire with a great deal of vocals variation except the medieval music influence. It's great news to know that this album is a prologue to the upcoming album "Ferrum Fero Ferro Feror."
Phoebus the Knight "The Last Guardian" was independently released on June 21st.
Track Listing:
The Fall of Baraz Dûm
The First Head
The Time of the Light
The Last Guardian
Watch "The Scarlet Dance" official music video here: