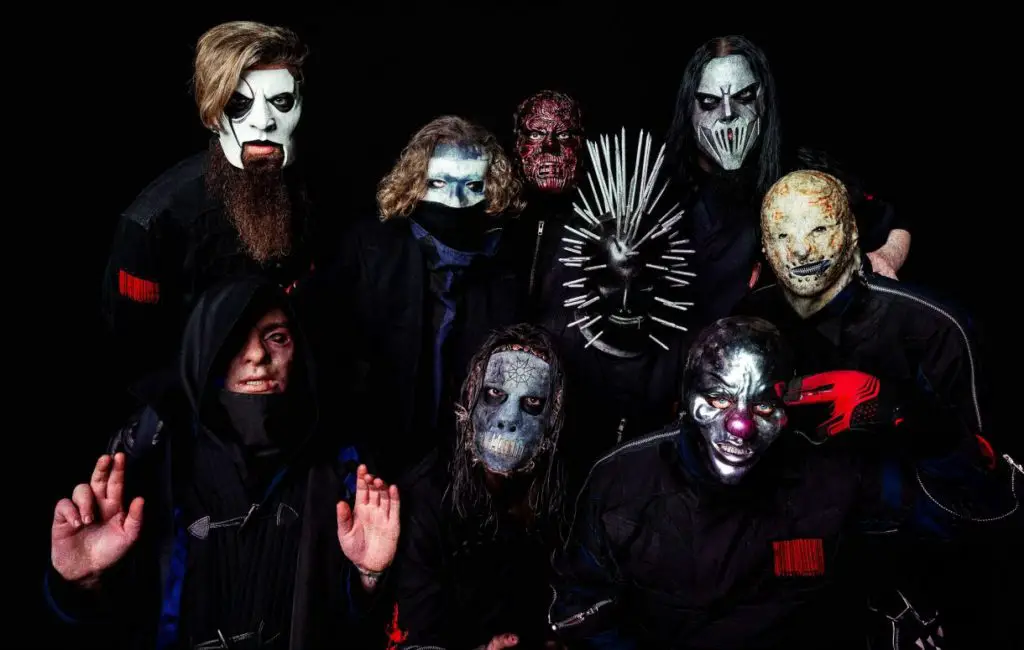 While identity of new SLIPKNOT percussionist remains a mistery, some Reddit users believe they are closer than ever to discovering the percussionist's true identity.
In a new photo posted, you can see who they presume to be the new member leaving a hotel alongside SLIPKNOT guitarist Mick Thomson.
The photo below (which crops out Thomson standing off to the left, wearing a hat and sunglasses with suitcase in tow) is the one in question. A man in a black hat with a narrow physique that closely resembles that of "Tortilla Man" (the nickname online users have given him based upon the mask style) is seen wheeling luggage of his own out from the Four Seasons hotel, carrying a backpack with a camera strapped over his shoulder.
As you can see, his footwear are marked in red which apparently are the same that are used for SLIPKNOT's stage show. It is not known if these are custom shoes designed for SLIPKNOT's stage show or widely manufactured.
In March, SLIPKNOT announced the departure with the percussionist Chris Fehn after he filed a lawsuit against his band members over unpaid loyalties.
In his lawsuit, Fehn claims to have always been told that the money from merchandise and touring is funneled through one sole company that splits profits and pays the members of the band. However, Fehn claims he recently discovered that his bandmates have set up several other SLIPKNOT-affiliated business entities in different states that appear to be collecting money from the band.
SLIPKNOT have refused to reveal the identity of the new member, who is replacing Fehn, but some fans on Slipknot Reddit had speculated that Zach Hill is the new percussionist, and said they saw him at Jimmy Kimmel Live.
The band will release their sixth studio album, We Are Not Your Kind, on August 9 via Roadrunner Records.