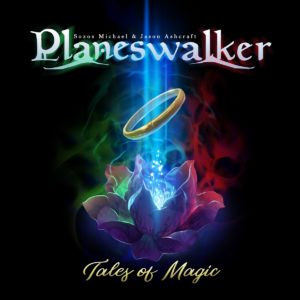 To the fans of the franchise and the nerds, the name of the band probably rings a bell. Accompanied by the title, "Tales of Magic", the main theme of the album now becomes quite obvious. However, for those who don't know, the album is based on the lore of the popular trading card game, Magic: The Gathering.
So, if you are a fan of the game I understand that you are already a bit more interested in the Planeswalker's album and if you are not, I hope that after reading this review you will give it a shot. Because, even if we put the concept aside and examine it as usual power metal album about legendary warrior and mythic creatures, the "Tales of Magic" is an absolute killer.
Planeswalker reunites Jason Ashcraft and Sozos Michael into a new power metal project, after their collaboration in the Helion Prime album "Terror of Cybernetic Space Monster". Their debut, "Tales of Magic", is the spawn of their love for the Magic: The Gathering and it will be released in January 21st, 2022, with a 7 song track-list.
Musically, "Tales of Magic" is built and follows the standards of the European power metal scene. Although the band was formed in the United States, they do not abide by the gritty, harsher, riff based sound of the U.S scene. They would rather compose their ideas around melodic lead guitars with neoclassical influences, epic riffs and wide verses and choruses with beautiful vocal lines.
In the album, apart from the 6 original compositions there is also a cover of the classic song "A Million to One" by Kiss. Without the notion to be blasphemous, the Planeswalker found a way to improve what is was already great. I had never thought that "A Million to One" could make a great power metal song.
One thing became obvious to me while listening to Planeswalker. Jason and Michael are two extremely talented musicians, with an absolutely beautiful musical vision that will be officially released in a month. Save the date, 21st of January, so you won't forget the release of the great "Tales of Magic."