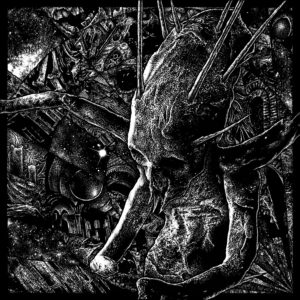 The word experimental in the world of metal is one that tends to get thrown around quite a bit and sometimes unnecessarily. Many bands under the moniker vary in terms of how much experimentation they do with their style, but there are some bands that bring not only new flavors to a sound but also classic tropes as well as elements from a completely different genre of music to make their music really stand out from the rest. That's a mere morsel of what Poison Blood did with their upcoming debut, and every time I listen to it I can't help but be all the more dragged into the abyss that Poison Blood carves out of reality with this abyssal treat.
With what looks like to be an alien spawn of Cthulu wreathed in cosmical black, that cover art promises the listener an experience the likes of which few other bands have captured before. And I can understand some presuming that Poison Blood wouldn't deliver with this being but their debut EP, but to call this eponymous piece underwhelming would be no less than a f*cking insult! The eight tracks we are given with this EP truly embody all there is about the dark beyond by being presented in the form of a minimalistic and lo-fi black metal experience that's not only incredibly enrapturing but also musically transcendent. Should you want to experience some spacious black metal oozing with all that is opaque and remote in the universe but then transit over to what can only be described as the darkest take on dungeon synth that I've ever heard, then Poison Blood has created a menagerie of abyssal valleys and interstellar peaks that really know how to cut deep into your soul to strategically place its hooks where the masterminds behind Poison Blood can rest easy knowing that you're fully entranced in their demented hypnosis. The entirety of this EP is no less than a truly gripping album that's an absolute treasure to behold that's honestly one of a kind, and I can easily say that there's not been anything akin to Poison Blood before the band's inception, and I'm damn confident in saying there won't be many others like this group in the future.
It's not often that a band of only two people can come together to create something that's not only new and interesting, but practically shifting from the rest of the black metal cloud to spawn their very own storm is something else entirely that only happens rarely. I feel I can easily say that not only is Poison Blood here to stay, but this magnificent piece isn't the last we've heard from them. This duo has created a new dark and ghoulish galaxy the likes of which holds many secrets and chasms of untold mystery, and I'd happily return to this realm time and again should Poison Blood be at the helm, and I suggest you all do the same.
"Poison Blood" releases on August 11th via Relapse Records! You can pre-order the album via iTunes here, and you can stream advanced tracks from the album on Bandcamp here.
Track Listing:
The Scourge and the Gestalt
Deformed Lights
Myths from the Desert
A Cracked and Desolate Sky
The Flower of Serpents
Shelter Beneath the Sea
From the Lash
Circles of Salt