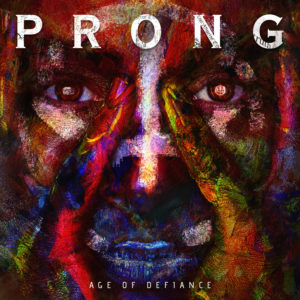 Two years ago we had the pleasure to review Prong's full length "Zero Days" which turned into an album where was noticiable that the band was going into a different music direction. Bands that last long always pay time a tribute which sometimes proves to be too hot to handle. In advance I'll say that Prong aren't one of these bands, but time prooved that Prong were a Modern Metal before Modern Metal. This EP "Age of Defiance" is the definite proof of that theory. The five tracks contained here are in no way monolithic as Prong's previous efforts – well, to be completely honest they weren't that monolithic, but whatever, you got me. It's possible to feel a conducting idea into "Age of Defiance" which is, lets say, Prong's essence. This conducting idea, this essence is what brings Prong near Modern Metal. But the blend with Thrash Metal and Groove Metal is still available.
My guess is that the title "Age of Defiance" means more to Prong than just the opening and title track, because "Age of Defiance" is the piece that made me compare Prong to their Modern Metal peers. Its cadence and rhythm plus the big guitars and the guitar squeaks they do are evidences of the plot. Obviously, as all modern stuff, "Age of Defiance," the album, has a foot in the past because "The End Of Sanity" is a pure piece of 1980's Thrash Metal with their warcries and wall of sound guitars. It's the track that links Prong to the past, moreover, to their own past. "Rude Awakening" is also a track that pays a tribute to the past and whose title says also a lot about the band and the emotions they feel and want to pass the fan. It's guitar riffing from head to toe is a 1970s Van Halen's guitar riff though the vocals. If you can, try to separate the vocals from the instrumentals. Pure Van Halen, isn't it? I guess with "Rude Awakening" Prong want to say that they had their Metal party era, but it has changed as soon as "Another Worldly Device" comes with their characteristic Groove Metal that made them famous. Last track "Cut Rate" adds some more Thrash and Groove Metal to the complex formula of "Age of Defiance." It's faster than the others with an insane guitar riff that pays off. The chorus reminds just a little a pop song from the early 1980s. It's the most Prong track from "Age of Defiance." Guitar solo is also a feature that pays off. Listening to these tracks in a sequence may mean all that. Well, I don't really know. My job isn't to be sure, it's to go fishing sometimes…
"Age of Defiance" is a bold album even to a bold band as Prong. Some say bands have to reinvent themselves from time to time. I dont disagree completely, what I think is that the band must feel the roght timing. Only that. No one should be forced to change.
Prong "Age of Defiance" will be released on November 29th via Steamhammer / SPV.
Track Listing:
Age of Defiance
End of Sanity
Rude Awakening (live)
Another Worldly Device (live)
Cut Rate (live)
Watch "End of Sanity" official music video here: