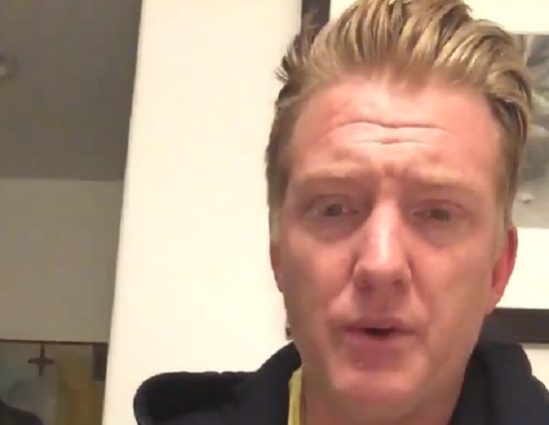 QUEENS OF THE STONE AGE frontman Josh Homme has admitted that he was "a total dick" for kicking a photographer in the face during his band's concert in Los Angeles over the weekend.
Homme kicked Shutterstock photographer Chelsea Lauren in the face without an apparent reason. She explained:
"It was obviously very intentional. Josh was coming over and I was pretty excited, I've never actually photographed QUEENS OF THE STONE AGE before, I was really looking forward to it. I saw him coming over and I was shooting away.
"The next thing I know his foot connects with my camera and my camera connects with my face, really hard. He looked straight at me, swung his leg back pretty hard and full-blown kicked me in the face.
"He continued performing, I was startled, I kind of stopped looking at him, I just got down and was holding my face because it hurt so badly.
"I feel like if I don't do anything, he gets to kick people in the face and not get in trouble because he's a musician. That's not right."
Homme on Sunday released a video message apologizing to Lauren and saying that he was wrong for doing what he did.
He said: "Last night at a QUEENS OF THE STONE AGE performance, I kicked the camera of a photographer, and that camera hit the photographer in the face. And the photographer's name was Chelsea Lauren. I'd just like to apologize to Chelsea Lauren. I don't have any excuse or reason to justify what I did. I was a total dick, and I'm truly sorry, and I hope you're okay.
"I've made a lot of mistakes in my life, and last night was definitely one of 'em. And I apologize for that to you.
"I wanna be a good man, but I think last night I definitely failed at that. And that means I failed my family and my friends as well. I don't want them to ever be ashamed or embarrassed about being around me or knowing me. And so I apologize also to my bandmates and my mom and my dad and my wife and my brother and my kids.
"Yeah, I'm gonna have to figure out some stuff, I think. 'Cause rock and roll is a wonderful thing. It's supposed to save and help people, not mess 'em up.
"So, Chelsea Lauren, I hope you're okay and I'm truly sorry. And I understand you have to do whatever you have to do. I just want you to know that I'm sorry."
https://youtu.be/8JBfRSeYofM