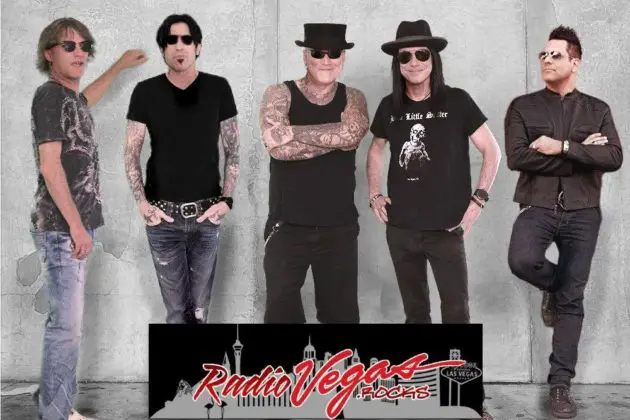 Phil Varone is back on the air with his newest show "Unphiltered" beginning August 3rd on RadioVegas.Rocks. The founder and drummer for the band Saigon Kick, as well as former touring drummer for Skid Row is currently with Jake E. Lee's Red Dragon Cartel.
Phil Varone stated: "Just when you thought it was safe to put on the radio, they put me back on the air. I'm excited to announce my new show Unphiltered."
RadioVegas.Rocks announced that "Unphiltered" will be on air Thursdays from 7pm-9pm PST. It will be two hours packed with guests, music, giveaways and more. With one incredible line up of LIVE entertainment, they are giving you a reason to really check out why Internet or "Digital" Radio is the way to listen to radio.
RadioVegas.Rocks, owned by Jay Bird (Crazy Jay), has one goal in mind and that is to be like no other station out there. Last December, Eric Stacy (not in photo), the former bass player of the group Faster Pussycat, came to RadioVegas.Rocks with the idea of doing his own radio show. With the sign of the mighty pen 'Stacy's Racy Rock N Roll Show' was born and it's LIVE every Monday night at 9:00 PM PST. Ever since that day others have hit up Jay to do shows. Now, Jay Bird calls this line up of Rock Stars "The Voices of Rock!" with a new station tag line "Where Rock Goes to Talk."
On Tuesdays at 6:00pm PST we have Rich Redmond, the drummer for Jason Aldean, who does a show called "Pick Rich's Brain". There, musicians can e-mail or reach out during the show with music questions on just about any topic and Rich will talk to you about it.
On Sunday nights the listeners can be treated to Wilde Nights with Danny Wildewho is the vocal beast of the Las Vegas Bon Jovi Tribute Band, and Metropolis and Roxshow, but is currently singing for the band Steppenwolf. Check out Danny's show every Sunday at 9:00pm -11:00pm PST, which leads right into "Sinful Sundays" with Brent Muscat also of Faster Pussycat and Original Sin fame, as well as The Alley Cats and his co-host Dirk Vermin of the punk band The Vermin and the man behind Pussycat Tattoos in Las Vegas.
The Voices of Rock Show Times:
Stacy's Racy Rocking Roll Show with Eric Stacy Monday's at 9pm PST
Pick Richs Brain Tuesday's 6pm PST
Unphiltered with Phil Varone Thursday's between 7-9pm PST
Wilde Nights with Danny Sunday's 9-11pm PST
Sinful Sunday's with Brent and Dirk 11-1am PST