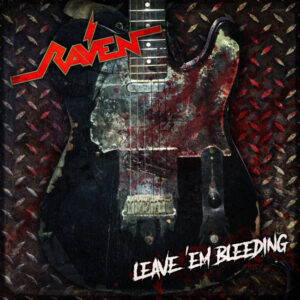 "Leave'em Bleeding" is a compilation from the past seven years of the band. Not some kind of Best of with a retrospective of the band's career. In this very particular it would be nice as Raven have a very successful career in terms of influence. Some say there wouldn't be Thrash and Speed Metal if it weren't for Raven. Well, from where I sit, this may be right, but exclusively. Of course, there are other bands and Raven may be one of them.
It's true that some bands have a very peculiar sound. The kind that in only hearing it is possible to recognize. Raven are one of them which their frentic music with a fast pacing and some touches of Rock in the harmony. I guess the word frentic explains better what the fan hears. Hard to explain what makes Raven Raven, but I'll try. If my dear fan knows Accept's "Dogs on Leads" and Saxon's "Party Till You Puke" the hint is given with the heavy boogie the bands perfom on these songs. It's some very wild rock boogie fast as hell with lots of distortion. Not overdrive, distortion. There's a difference in the effects and outcomes. Raven's music is as frentic as these two songs with Metal harmony composed with Rock harmony in them. I'll quote two bands I know have the same musical vibe. One of them is Helix with "Rock You" just a little bit cooler. The other is Madam X with "High in High School" this one with the same speed. Sort of both bands are contemporaries. Maybe this got better after these examples. Sort of if my dear fan doesn't know both bands.
As all compilations "Leave'em Bleeding" tries to capture the best moments of the band. I'd say "Top of the Mountain" with its flamboyant and flirty guitar riff is one of the best of the albums and explains best this moment of the band. "Metal City" is one of the band's anthems that should be chanted in all their gigs at full breath with all the fans' lungs. Again the guitar riffs are outstanding showcasing the band's heavy boogie philosophy. Maybe heavy boogie isn't the best example but it's the one I've got now. There are two live tracks "Crash Bang Wallop" and the seminal and eternal "Stay Hard" from the band's early days as an exception to the rule of this compilation.
If my dear fan wnats to get a hold on Raven's last albums "Leave'em Bleeding" is a great call.
Raven's "Leave'em Bleeding" will be released on September 30th via Steamhammer/SPV Records.
Track Listing:
Top of the Mountain
Metal City
The Power
Destroy All Monsters
Battle March / Tank Treads
Crash Bang Wallop (live)
Necessary Evil
Space Station #5
Malice in Geordieland
Bad Reputation
Rock This Town
Stay Hard (live)
Watch "Metal City" official music video here: