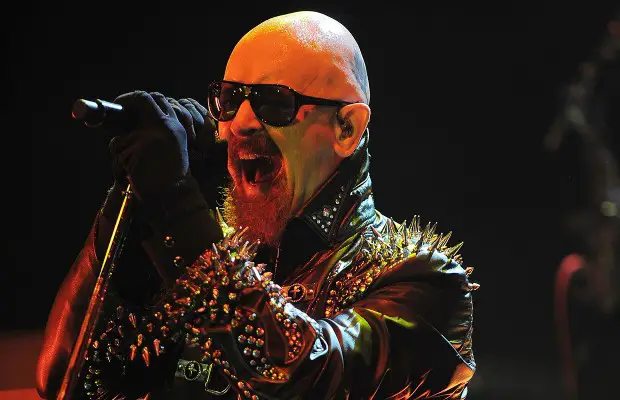 During his recent appearance on San Francisco's 107.7 The Bone (KSAN-FM) radio station, JUDAS PRIEST frontman Rob Halford was asked if he and his bandmates would be open to having their story told in a movie with actors, like QUEEN's "Bohemian Rhapsody" and MÖTLEY CRÜE's recently released Netflix biopic "The Dirt."
He replied: "For a band that was there from the beginning of metal, it's an interesting story, especially the way that the music kind of was created, out of the back end of hard, electric rock scene and progressive blues rock; it's got a great timeline of events when it comes to the actual sounds and the structures of songs.
"With a lot of these biopics, you need to have a bit of — not exactly sensationalism, but I think you want a little bit more than maybe… We certainly got up to antics on the road. [Laughs]
Halford continued: "Who knows, man? There seems to be a theme running through Hollywood right now, where Hollywood is actively looking for this kind of experience.
"Who would play The Metal God? That's the thing. [Laughs] I have no idea. [Laughs] Maybe you can get the KSAN listeners to let you know who they think should be standing there, first with a wig and then bald-headed. [Laughs]"
In a recent interview with Austin Chronicle, JUDAS PRIEST bassist Ian Hill has confirmed that the band is planning to mark the band's 50th anniversary in 2020 with a special tour.
Ian said: "Technically, the 50th anniversary is this year, but we weren't called JUDAS PRIEST until 1970, so we thought we'd leave it till next year. There's a few ideas in the pipeline, but nothing solid yet, apart from the fact that we will tour.
"We've got some work to do with Ozzy [Osbourne] at the beginning of next year, January-February, which is the canceled shows from this year. Ozzy got sick and wasn't able to do those shows. After that, we'll start with the 50-year celebrations and we'll be around again playing… Well, we're not sure what we'll be playing, but it'll be cool."
JUDAS PRIEST's latest album Firepower is the first studio album since 1988's Ram It Down to be produced by Tom Allom, and the first one with Andy Sneap as co-producer. The album sold around 49,000 copies in the United States within its first week of release, debuting at No. 5 on the Billboard 200 chart, making it the band's highest-charting album in the US. Music videos were made for "Lightning Strike", "Spectre" and "No Surrender".