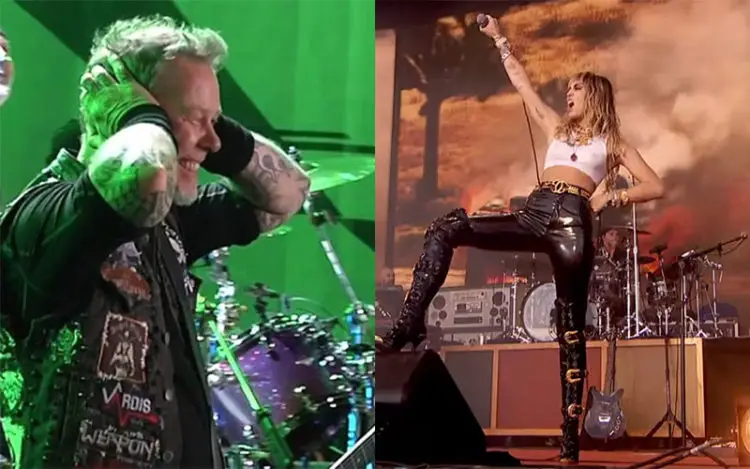 During a recent appearance on "Life In The Stocks" podcast series, JUDAS PRIEST singer Rob Halford praises Miley Cyrus as a fellow "survivor" in the music business.
"She is incredible," Halford says. "If you think about her life in showbusiness from being a little kid, and how she's kept her head on straight… She went a big mad as a teenager, which you should do, that's your right, she was expressing herself.
"I can't wait [to hear her METALLICA covers album], that's going to be great. She has an extraordinary voice, like [Lady] Gaga the voice is everything, and she's a metalhead, she's always throwing the horns up. She's someone I'd love to meet if the stars ever aligned."
"Women power, girl power…bless them, we wouldn't be here without women, none of us blokes would be here without our beautiful mums," he continued. "Women are so strong and powerful, especially in music… Gaga, Madonna, Miley, my friend Maria [Brinks] from IN THIS MOMENT, and going back to Vinegar Joe with Elkie Brooks, and Janis Joplin and Shirley Bassey… the power of women can't be understated."
Full interview can be heard below.
Halford recently spoke about the progress of the songwriting sessions for the band's follow-up to 2018's Firepower album.
He said during a recent appearance on Lazer 103.3 radio station: "We've already started work on it. We had some great writing sessions in the early part of this year until the world came to a stop in late March. I came back here [home] to Phoenix just to chill and relax for a bit and get ready for another writing session. 'Cause that's what we need to do as a band.
"You make a bunch of work and then you walk away from it and then you go back to it later and re-analyze it and continue the growth of the record," he continued. "That's what we were doing then, and we're still doing it now — we're still putting bits and pieces together.
"It's an unusual way of making a record, but we're not the only band that's going through this situation in terms of creativity. You can't let this pandemic stop you; you've gotta try and still get as much out of life as you can."
Released in 2018, Firepower is the band's first studio album since 1988's Ram It Down to be produced by Tom Allom and the first one with Andy Sneap as co-producer. The album sold around 49,000 copies in the United States within its first week of release, debuting at No. 5 on the Billboard 200 chart, making it the band's highest-charting album in the US.