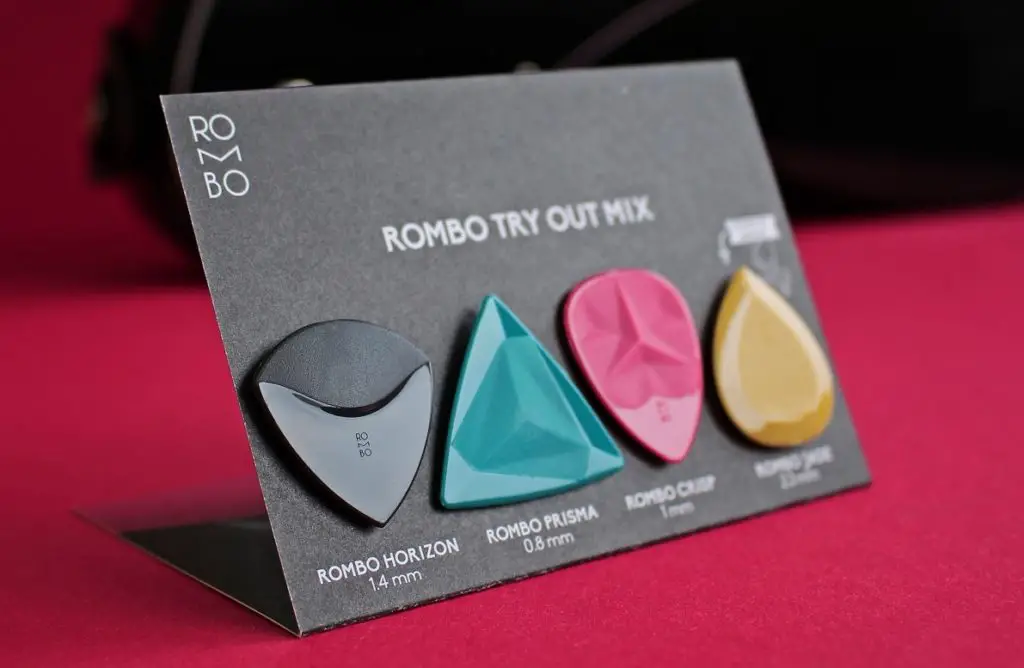 Rombo Picks has developed a new series of plectrums with a special story: They were designed with the help of the online guitar community. For this, the founders created a big online survey, in which the users could select the thicknesses, the size, the tip diameter, and even the names.
These guitar picks will be available for pre-order on the Kickstarter site on 19 January 2021. During this 37-day campaign, the guitar picks will be available for a reduced price. Kickstarter page can be found at this link.
The material used to manufacture the picks has high mechanical strength and stiffness, excellent impact resistance and superior aesthetic properties.
Rombo also uses this material for its Eco-Black range. In this range, all four guitar pick models are manufactured out of 100% recycled pre-consumer fibre waste.
Each pick has been carefully developed for a concrete purpose. For this reason, the Rombo team has redefined the four attributes of a guitar pick: shape, thickness, material and size.
The highlights of these guitar picks are:
Micro-nodule grip structure
High mirror polished tip
3D ergonomic design surface
Variable thickness
High-Quality materials
Unique designs
MICRO-NODULES GRIP STRUCTURE
Grippy, non-sticky surfaces are perfect for the hold area on a guitar pick. The best way to achieve this is to create a texture that fits between the grooves of your skin and prevents the guitar pick from slipping or creating an aggressive grip geometry that hurts the fingers of the guitarist.
HIGH MIRROR POLISHED TIP
A guitar pick with a polished tip allows you to experience better control and less friction. In this way, reduced friction between the plectrum and the strings of the guitar will help increase the durability of the pick because it will wear less and reduce its noise.

VARIABLE THICKNESS
One of the less common characteristics in guitar picks is variable thickness. It is ideal for the guitar pick to be thick for better control; however, this could significantly reduce its flexibility.
For that reason, plectrums of variable thickness have been created, since this would give us the best of both aspects.
That is to say, we could have a guitar pick with a solid, thick body that gives us better grip. Additionally, it features a thinner tip that provides enough flexibility to achieve greater versatility when developing different guitar techniques.

ERGONOMIC DESIGN SURFACES:
By following ergonomic models, the surface of the pick can be adapted to be comfortable, provide well-being and does not hurt the guitarist's fingers. It is advisable to look for picks with a 3D surface (those that are not flat) that have geometric patterns that offer a pleasant feeling to the grip. Similarly, we can take advantage of concave or convex surfaces, as they help keep the position of the plectrum oriented and avoid losing control in turning movements.
HIGH-QUALITY MATERIALS
If your hands do an arduous job, then you must give them the right tools, right? Many people spend a lot of money on fancy guitars, cables, amplifiers, and other accessories but set aside the pick. This is a big mistake.
The material with which it is made can influence the definition of tone, attack, and flexibility. Therefore, without paying attention to it, you could hardly find your personal sound.
UNIQUE DESIGNS
If you want to project an image with your own style, you must pay close attention to the design of your implements. To do this, you can try all the shapes and colors of guitar picks available in the market. Just imagine having one with an incredible appearance that is also very functional.