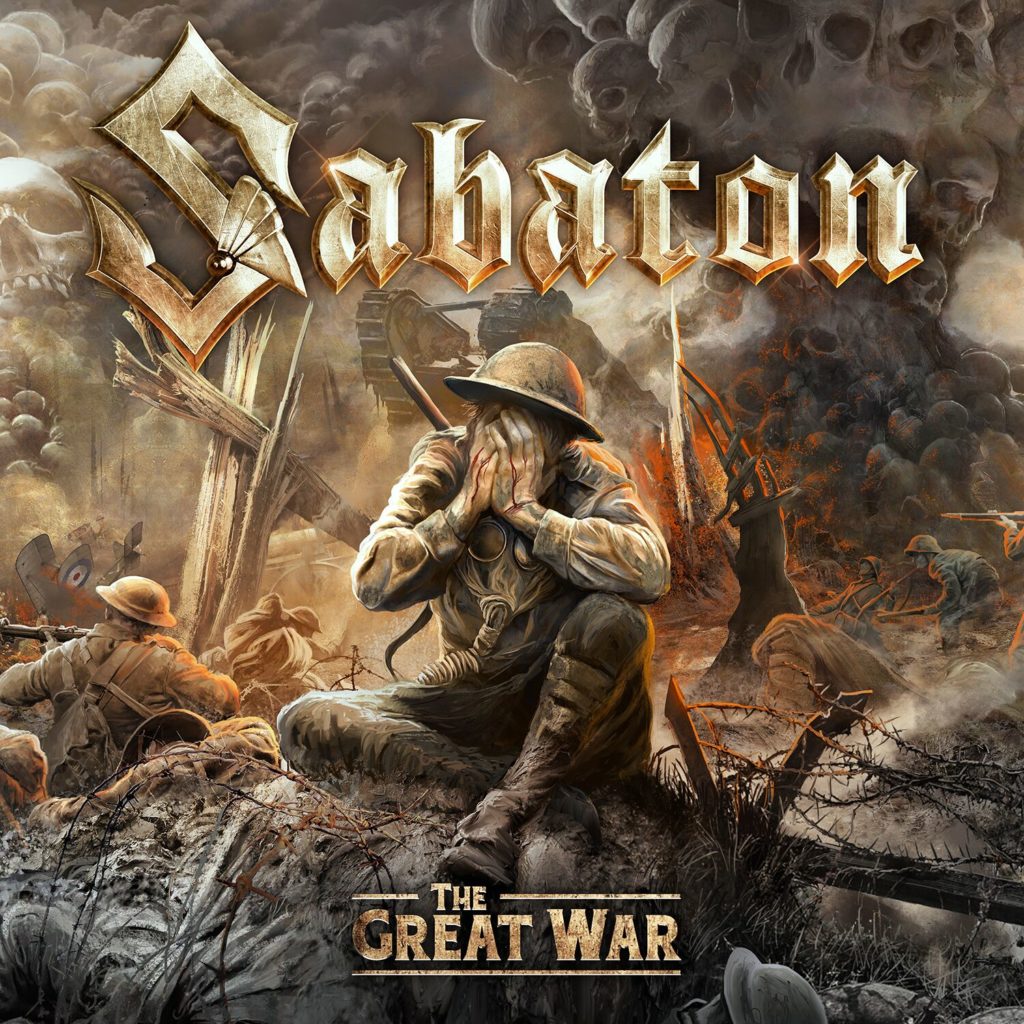 There are many, many, many great topics that can make any single album or even band great for either one album's worth of material or enough for the band's entire career. Without even having to think about it, when most of us think of war in metal we think of Sabaton. They may not have pioneered the idea of bringing the World Wars front and center with their performances over the years that have made them virtual legends, but it's definitely helped their success. I truly thought that it was with their last album, "The Last Stand", that Sabaton was bringing war stories from more than just the World Wars as they covered that and so much from the closing days of the traditional samurai to the rising of the Scots to the Battle of Vienna executed with trademarked Sabaton excellence; it was spectacular! So, I'll be honest with you, just seeing the cover art for "The Great War" made me a tad bummed because I think they'd continue a broader focus than just the World Wars, but it's by just the second track of this staggering album that Sabaton rightfully proved me wrong from top to bottom.

I could sit here and try to relay to you just how all-encompassing Sabaton went with their topics for "The Great War" as they cover the titular global conflict, but like with all of their albums it would only scratch the surface of what they achieved. Bringing back their well known and always reliable brand of power metal laced with melodies and swooping rhythms, you'd be hard pressed to consider any of these tracks weak as "The Great War" is practically overflowing with quality. It's the exact type of thing that we've come to expect from Sabaton at this point in the band's illustrious career, but it is no less satisfying. If anything, Sabaton's sound has aged precisely like a fine wine that has seen so many stories that are impossible to keep track of them all, and yet, we find ourselves enamored at each fresh tale thrown our way as we absorb it in earnest.

Everything that we've ever come to love about Sabaton was poured with great fervor into every ounce of this record. From the very beginning, we're greeted with the very upfront approach that Sabaton has been exercising masterfully for years now combined with a power that truly enabled them to become the powerhouses they are today in the first place. And it doesn't matter which song you pick out of "The Great War", they all have something magnificent that propels them forward! Whether it's tracks like "Devils Dogs" that bring an amazing energy that never lets up, infectious anthems like "The Red Baron" or "The Attack of the Dead Men", potent works of storytelling like "Fields of Verdun" or "82nd All the Way", overarching epics like the title track or "Seven Pillars of Wisdom", or even the beautifully soul-touching finally that is "In Flanders Field", there is so much fantastic material to go around with "The Great War". It's at the point where I'd be lying to you if I said I wasn't in love with this record or if its power has waned even a little since that first hit of the play button. Virtually everything that Sabaton could've done to make this record monumental was done with gorgeous precision with immaculate quality to boot.

Truly, the only complaint I have about "The Great War" after dumping so many hours into its magnificence is that it's too f*cking short! It's over way too soon and it's always leaving you wanting more and more! Sabaton's quality has rarely ever been questioned over the years and it's easily with this album alone that they've reached a beautiful peak. You can hear where they've sharpened their sound, brought consistency to areas that didn't need any further tweaking, and bring to the table a level of musicianship that is nigh on untouchable with each and every track being able to stand proudly on their own without a struggle. Without doubt, this could be considered to be one of the most potent releases Sabaton has put out with their already storied career, and it's more than worthy to be in their colorful catalog.
"The Great War" releases on July 19th via Nuclear Blast Records. You can pre-order the album here and listen to the single, "The Red Baron", via YouTube here or below.

Track Listing:
1. The Future of Warfare
2. Seven Pillars of Wisdom
3. 82nd All the Way
4. The Attack of the Dead Men
5. Devil Dogs
6. The Red Baron
7. The Great War
8. A Ghost in the Trenches
9. Fields of Verdun
10. The End of the War to End All Wars
11. In Flanders Field