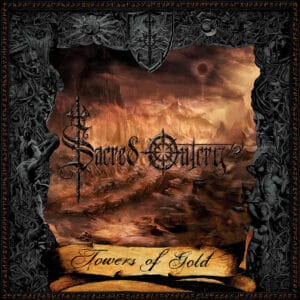 Sometimes I make connections that even I can't understand them all. There are places in our minds that are a secret even to us all. Some are dark, some are gloom, some even are happy, but all of them are full of emotion. The thing is music has this power of bringing emotions that most of us think are hidden somewhere in our hearts and souls. I guess I said once that I have a kind of musical memory because music can make me go back in the past. I mean, some songs trigger memories from my past. With a song I am able to bring back complete stories from my past. With other songs I make connections because they trigger musical memories I have deep down. When I first heard album second track "The Flame Rekindled (Lurid Lights And Drunken Revelry)" something in it rang a bell and I started to look within to remind which song this one adresses to. First, I got to remember which song is it. It's Rolling Stones "Paint it, Black." Then my mission was to find what made me connect it with Sacred Outcry's song. After some inside my mind considerations – they are the toughest, my dear child of the night – I decided that it was the melody that made me connect both songs. From where I'm standing, both melodies do have some connect. I don't know if my dear child of the night might think the same. Ok, then. To "Towers of Gold."
"Towers of Gold" is the second chapter of the band's trademark dark, epic power metal. Written and arranged by mastermind George Apalodimas, "Towers of Gold" is the first album featuring the band's brand-new line-up with axeman Steve Lado, drummer Defkalion Dimos and the legendary Daniel Heiman (ex-LOST HORIZON) behind the mic. It is the long-awaited successor to their highly acclaimed debut "Damned for All Time" was fine-tuned to perfection by the band and was masterfully mixed & mastered by Steve Lado in SL Studio, Greece. Musicwise, the album sounds to be perfectly handmade. It sounds as the fine work of an artisan who took care of each detail with the kind of attention only fine musicians would. The album starts with the gentle and sweet acoustic "Through Lands Forgotten (At the Crossroads of Fate)" which initially shows the band's careful attention to details. The feeling I get from all the album is that it took a long debate and a long time for them to decide which step would be the next. Sacred Outcry don't sound to me as band of any kind of improvising. Each moment is methodically thought, each guitar solo, each scream. The fun fact that all songs have long tittles tell me this as well because it looks as the band wanted to explain the songs in the most precise way as possible. The oucome is "Towers of Gold" an album that sonically sounds perfect. Or epic following the band's wishes. As a reminder go right to album tittle "Towers of Gold (Tempus Edax Rerum)" and its fourteen minutes where the album reaches its musical climax.
Sacred Outcry "Towers of Gold" will be released on May 19th via No Remorse Records.
Track Listing:
Through Lands Forgotten (At the Crossroads of Fate)
The Flame Rekindled (Lurid Lights and Drunken Revelry)
The Voyage (Towards Immortality)
Into the Storm (Beyond the Lost Horizon)
Symphony of the Night (The Curse of the Blind)
A Midnight Reverie (Whispers in the Wind)
The Sweet Wine of Betrayal (The Perennial Sin)
The City of Stone (The Burden of the Crownless Kings)
Towers of Gold (Tempus Edax Rerum)
Where Crimson Shadows Dwell (And Ouroboros Dreamt)
Watch "The Voyage (Towards Immortality)" official lyric video here:
1743