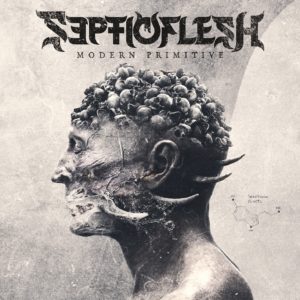 Septicflesh are the kind of band that I heard and read about them a lot but never had the opportunity of listening to any of their albums. I know the band has a long and victorious career being formed in the now very far of 1990. I won't lie to my dear fan and say that I had an idea of their music because I didn't. Nor to make believe I'm an expert of the band and quote all kinds of information I got from Google or other sources. That's not who I am. I find it important to be completely true to my fan and write the album I'm now listening which I guess i senough for starters.
What I see here in "Modern Primitive" is a band that mixes lots of influences from the 1990 Death Metal to the modern Symphonic Metal with some dashes of Prog Metal and Modern Metal. The term hodgepodge fits perfectly to what I'm listening here. Or maybe cauldron of influences may fit okay as well. The album tittle fits perfectly to the music the fan will find in here. There are layers and layers of modern features combined with old features more notably vocals. Opening track "The Collector" gives a good view of the album with lots of Symphonic features and a pungent vocal intertwined with some acoustic moments and some oriental instrumentation in the background. The impression it gets is that following track "Hierophant" is kind of bonded with "The Collector" as both sound pretty much the same. One track sounds as the continuation of the other. The same doesn't happen with "Self Eater" that is slower and more cadenced.
It's very interesting the vocal duets "Modern Primitive" has. "Neuromancer" delivers both clean and harsh vocals and the effect is breathtaking. The song adds another feature that is the epic passages and moments intertwined with some vigorous guitar riffings and an insane drumming. However, the track with the most uncanny and unexpected mix is "Coming Storm" whose instrumentation adds some brass section with trumpets and all to give it the atmosphere of en epic film.
This album is defying for all the things it mixes. No track is similar to the other except for the aforementioned "The Collector" and "Hierophant."
Septicflesh "Modern Primitive" will be released on May 20th via Nuclear Blast Records.
Track Listing:
The Collector
Hierophant
Self Eater
Neuromancer
Coming Storm
A Desert Throne
Modern Primitives
Psychohistory
A Dreadful Muse
Watch "Neuromancer" official music video: