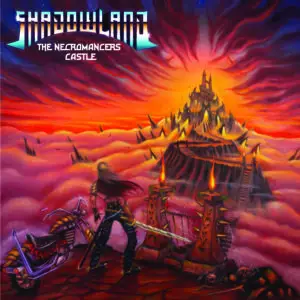 It's not possible for a guy like me to listen to Shadowland "The Necromancer's Castle" and not compare it to Doro Pesch's Warlock albums and her solo career. I mean a guy like me because I grew up in the 1980s and the queen of Metal music was Doro Pesch. Of course, I liked others as Lita Ford, the wonderful Acid's Kate and fantastic bands as Phantom Lord, Girlschool and others. Shadowland pay a tribute to all of them and to the Old School Heavy Metal with a Teotonic accent it's certain. The music in "The Necromancer's Castle" still sounds fresh as I listen to tracks as "Warhound" whose sonancy owes a lot to Speed Metal gods.
"The Necromancer's Castle" shows the fan that great Metal music goes beyond time and space. Some may say the music that is avaliable here may be outdate, but I strongly stress out that it isn't. The heart and soul that Shadowland put in the eight tracks we listen here is awesome. That's the felt when opening track "Ligeia" gives its initial sweet chords with a gentle guitar solo that suddenly burst into a Speed Metal piece embellished by the great voice of Tanya Finder and the a la Judas Priest "Painkiller" guitar solo. The track is fast paced with nice twin guitars that go again a la Judas Priest. By the way, it's amazing to note the clear influences of the mighty Judas Priest in the album.
The general mood in the album is high voltage adrenaline. I mean, it's a bombastic piece of Heavy Metal with a great female voice who lends her voice to embellish even more the tracks. Shadowland give a great balance to the album by mixing moods and paces throughout it. There are tracks, for instance "Walking in Shadows," that are more balanced and not that fast. Others are fast as hell. A band must have a great feeling to know how to show them all to the fan. I mean the order they are presented. It's almost a show where the band presents the songs by the mood of the fans and feeling the response. In an album the band must imagine how the response will be. Also impressive is the guitar work in the album alternating nice guitar riffings with amazing guitar solos. An album to remember. Metal music is still in good hands.
Shadowland "The Necromancer's Castle" was released on October 22nd via No Remorse Records.
Track Listing:
Ligeia
The Necromancer's Castle
Walking in Shadows
Rising Tide
Warhound
Remains
Easy Livin'
Pretty Faces
Watch "Warhound" lyric video: