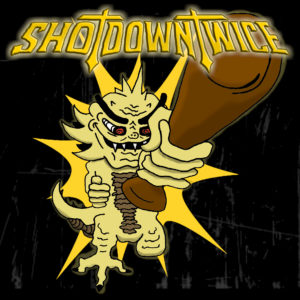 Shot Down Twice. Interesting name for a band. Even more for a debut album.
The Runaways is the first reference that comes to mind listening to the band. Bitch is the second. Both bands with strong female vocals and neat instrumental. Here the guitars talk louder. "Shot Down Twice" has many sweet guitar interventions mixing techniques. I mean, rhythm is purely seventies with those thick and full chordly riffing but the guitar solos are mostly from the 1980s using major scales. In addition to that a very cool guitar tone that – let me guess – must come from a Fender Strat. I may be wrong but the sound of the guitars are from a Fender Strat. Or only Strat.
"Shot Down Twice" is the kind of album that I had to listen more than once. Or even more. It's no secret I like bands with female vocals especially if they are strong and prominent. I really dont understand why some critics keep asking for changes if a band as Shot Down Twice fulfill everything so easily. No need to change, no need for a change. Only of mentality. Kepp away this commercial mentality of always needing to have a new product. From where I'm standing the only defect of the album is to be so short. It could have been a little bigger with more songs.
Interesting about is that Shot Down Twice on the opening track "By Design" they avoid following vocally the chordly, and strong, riffing which is a natural tendency. So, the song offers two distinct melodic paths that enrich amlot the outcome. Here we have a great example of a heavy song in contrast with a fast song. "By Design" is very heavy with no need to be fast. The guitars fill all the empty rooms of the song. That's heavyness. That's power. "Talk to Me" initially follows the same path though after the initial moments it breaks the heavyness with an acoustic passage to then go interweaven both acoustic with thick riffing. Your especial attention, my dear fan, to the Steve Ray Vaughn driven "Long Haul Blues" a song that with not the intent to honor the master but which did it. "Undermine/Overthrow" has a punk inspiration except for the guitar solos. The simple but effective guitar riffing reminds a lot 1970s first Punk bands. The mighty Wendy O. Willians (RIP) has her touch here.
"Shot Down Twice" an album to be recommended with flying colors. Simple, heavy, strong.
Shot Down Twice "Shot Down Twice" was self-released on January 21st.
Track Listing:
By Design
Talk to Me
At a Loss
Long Haul Blues
Undermine/Overthrow
Goddess of the Sun
Watch "Undermine/Overthrow" official video here: