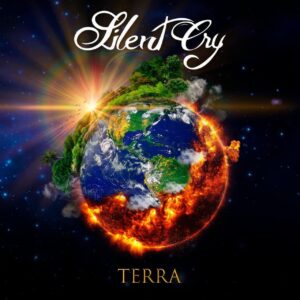 Here we've got the honor of reviewing the newest album of one of the most remarkable Doom Metal bands of this sad and lonely and pathetic little planet. If today an Extreme Metal band with female vocals contrasting with a harsh male voice is very common that wasn't the standard in 1994. Even more for a Doom Metal band. Still today this mix isn't common to Doom. A band whose career had its ups and downs as many others due to many reasons. One of them was due to keep the Metal faith in a world where bands with strong agendas and out of the market sonancies suffer a lot. And the list is very comprehensive. I remember to have met Silent Cry in that famous compilation I always talk about. However, the meeting wasn't from the cassete tape from my dear friend. A long time after that I decided to buy the original CDs online. It was from one of them that I discovered "Innocense," a song that I admit that caused me an impression that very few songs had on me. Intense, dark, gloomy, with a haunting beauty that I don't recall to have heard before the song got me totally. Its relentless soloing guitar was the first thing that called my attention. Not only the guitar, but the way the song was recorded made it perfect for me. Then, of course, as my dear child of the night knows, the female vocals contrasting with the harsh male voice caused me a hell of an impression. I even downloaded some albums from the band, but I remember not to have liked them. To be real frank, I don't which one or how many I downloaded and heard, I only rememeber not to have had the same impression. Now, years later I come to a sense that I wasn't fair enough with the band and here I've got "Terra," a bold concept album wit a very relevant thematic. Terra in Portuguese means Earth, which is the main theme of the album whose lots of atmospheric passages and moments in native american languages make it unparalleled. Here Silent Cry explore a deeper spirituality deeply rooted on ancestral beliefs.
It's been a while since Silent Cry abandoned their Doom Metal roots to embrace a more symphonic façade. "Terra" is a natural reflexion of this choice. If the fan dig a little harder some guitar passages address to the old times as in "Lucifer's Eyes," but the keayboards and Juliana Rossi's, the new vocalist, make no mistake about the new direction. From the old time's sake there is the male vocal contrasting with the female and now even more due to the symphonic wrapping Silent Cry opted. To hardcore fans "Terra" sounds sugared, for newcomers the album still does make a difference. Old dogs do learn new tricks. In fact, "Terra" has its share of ballads as "Dreaming and Waking Up" and "Solitude in Moon." However, from where I sit, those ballads are much related to a Progressive Rock grip than to real balads. By the way, there are many moments in the album that Pink Floyd is strongly felt. I strongly recommend my dear fan to listen and to understand the album as a whole to give the album the opportunity to make the sense the band imagined while preparing it. The tracks listen isolated don't cause the same effect as in whole. Believe me when I said it. It's the pure truth.
P.S. – In its Brazilian CD "Terra" includes as a bonus track a completely different version of "Innocense." I'm including here a link for the original studio album version. There is also an alive version from the "Dark 'n Live" DVD that does justice to the original. Go for it.
Silent Cry "Terra" was released in October, 2022 via Heavy Metal Rock.
Track Listing:
Pactum Heart

Absolutely Empty

Snake's Dance

Kali-Yhama-Jhai

A Romance With Pain

Solitude in Moon

Lucifer's Eyes

A Dreaming and Waking up
Watch "Snake's Dance" official music video here:
1700