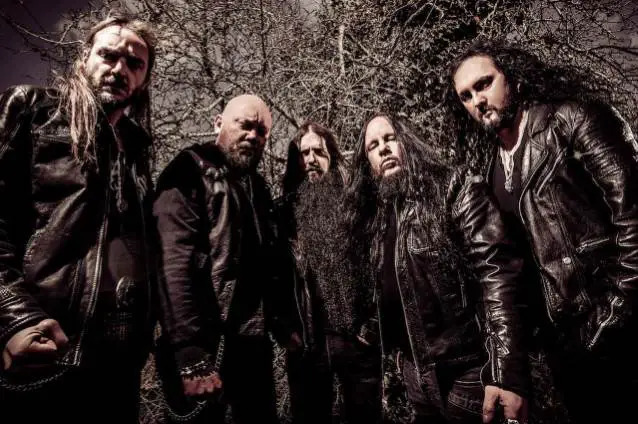 DRAGONFORCE's Fred Leclercq and Joey Jordison of VIMIC (former drummer and co-founding member of SLIPKNOT), who just released the brand new and critically acclaimed album 'Repulsion For Humanity' by all-star death metal band SINSAENUM on August 10th 2018 with Ear Music, are about to kick off for an extensive European tour this September! Starting on September 28th with shows in France, continuing their run all over Germany, Poland, Italy, Scandinavia, BeNeLux and many more European hot spots with a final show in Helsinki a month later, the band will be joined by very special guests HATESPHERE.
When you hear about artist side projects or self-styled "all-star bands", you usually cannot help but roll your eyes at the audacity of the creators. However, when it comes to the extreme metal beast that is SINSAENUM, open your mind and ears and forget your preconceptions! Whilst they may draw their sonic power from renowned names, these are first and foremost friends joining forces as the most logical thing to do. SINSAENUM is a solidly bonded band of like-minded great musicians featuring Joey Jordison, DRAGONFORCE's Fred Leclercq, Attila Csihar from Norwegian black metal legends MAYHEM and drone masters SUNNO))) (who has been featured on the band's highly acclaimed debut album 'Echoes Of The Tortured'), Sean Zatorsky from NWoAHM titans DÅÅTH and CHIMAIRA, Stéphane Buriez of French death metal veterans LOUDBLAST as well as Heimoth, mastermind of eclectic extremists SETH.
"I've been a death metal fan ever since and wrote some of these songs already in 1998, so it's something I always wanted to do," says multi-instrumentalist and virtuoso bass player of London-based Power Metallers DRAGONFORCE Fred Leclercq, who sticks to the guitar on this venture. "There was never the right time though, nor did I find the proper people to pull it off."
The end result of this mighty fusion is the second successfully released album titled 'Repulsion For Humanity', featuring some head-splitting riffs, challenging rhythms and structures, but at once such an infectious record created by one of the most influencing and incredibly versatile musicians the metal scene has to offer.
It's been just a matter of time to finally bring this exciting band project live on stage: "We are really excited about this upcoming tour in the fall and we looking forward to finally being able to meet our fans. To embark on this run with HateSphere is an honor and a great motivation to outdo ourselves every night! Those of you who have already seen us with our other bands know what we are capable of; all these energies combined will be something unique you dont want to miss! See you all very soon!" – Joey, Steph, Heimoth, Sean, Fred.
Check out this promising teaser in support of the band's upcoming 'Repulsion For Humanity Tour 2018' below.
Make sure to catch this unique all-star death metal group of SINSAENUM live on the following dates, presented by Dragon Productions with very special guests HATESPHERE:
28.09.18 FR St. Brieuc / La Citrouille, with HateSphere + T.A.N.K.
29.09.18 FR Paris / Flow, with HateSphere + T.A.N.K.
30.09.18 FR Reims / La Cartonnerie, with HateSphere + T.A.N.K.
01.10.18 LUX Esch Sur Alzette / Kulturfabrik, with HateSphere + T.A.N.K.
03.10.18 DE Hamburg / Knust, with HateSphere + Critical Mess
04.10.18 DE Hannover / Musikzentrum, with HateSphere + Critical Mess
05.10.18 DE Berlin / Lido, with HateSphere + Critical Mess
06.10.18 PL Warsaw / Proxima, with HateSphere + Critical Mess
07.10.18 CZ Prag / Futurum, with HateSphere + Critical Mess
09.10.18 DE München / Backstage, with HateSphere + Critical Mess
10.10.18 HU Budapest / Dürer Kert, with HateSphere + Critical Mess
11.10.18 AT Wien / Szene, with HateSphere + Critical Mess
12.10.18 CH Zug / Galvanik, with HateSphere + Critical Mess
13.10.18 IT Milano / Legend, with HateSphere + Critical Mess
14.10.18 FR St. Étienne / Le Fil, with HateSphere + Critical Mess
16.10.18 FR Colmar / Grillen, with HateSphere + T.A.N.K.
17.10.18 DE Stuttgart / ClubCANN, with HateSphere + T.A.N.K.
18.10.18 BE Vosselaar / Biebob, with HateSphere + T.A.N.K.
19.10.18 UK London / The Dome, with HateSphere + T.A.N.K.
20.10.18 NL Amstelveen / P60, with HateSphere + T.A.N.K.
21.10.18 DK Kopenhagen / Vega, with HateSphere
22.10.18 SE Göteborg / Sticky Fingers, with HateSphere
23.10.18 NO Oslo / Parkteateret, with HateSphere
24.10.18 SE Stockholm / Klubben, with HateSphere
26.10.18 FI Turku / Apollo, with HateSphere + Mörbid Vomit
27.10.18 FI Tampere / Olympia, with HateSphere + Mörbid Vomit
28.10.18 FI Helsinki / On The Rocks, with HateSphere + Mörbid Vomit