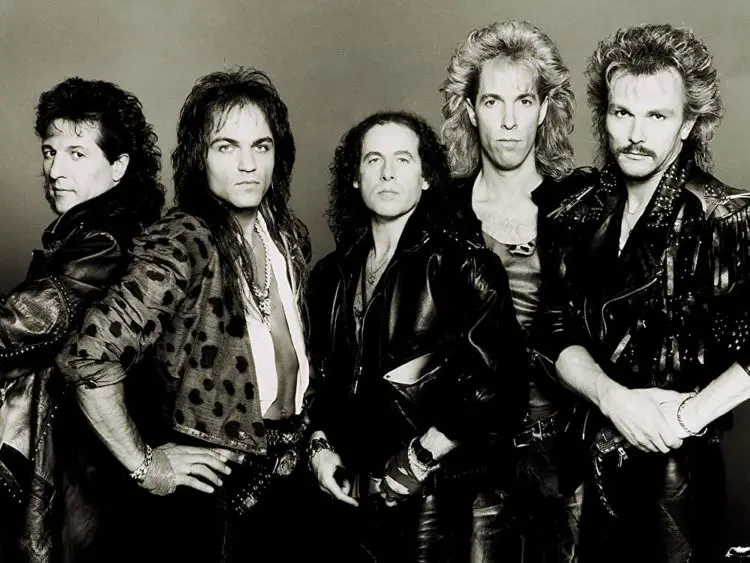 Here is another band that has majored in writing the most beautiful ballads ever, and why not, commercially very well succeeded, because they deserve it: Scorpions.
The combination of Klaus Meine's warm and skilled voice, besides his strong German accent which gives a special charm to songs and Rudolf Schenker and Uli Roth – with a brief special guest appearence of MIchael Schenker – and then Mathias Jabs, made millions whisper with those ballads.
There are some people that really believe that Scorpions are only "Still Loving You" and "Winds of Changes," which are truly the most well succeeded, but not only. There is much more:
Their first album, "Lonesome Crow," which is not very known, shows the hippie gripped "In Search of the Peace of Mind," but with the inspired and classical Uli Roth's interventions:
Second coming, "Fly to the Rainbow," brings us the title track whose beautiful acoustic guitar calls the eyes with a classical grip to then goes harder in a scorpionish heaviness. Pay close attention to guitar phrase leading the song. Another inspiring Uli Roth's magic:
"Virgin Killer" is their fourth album which arose a big controversy due to its cover art showing a naked twelve or thirteen year-old girl. Unthinkable in today's world. In it there is the beautiful "In Your Park" which features the world famous Scorpions chorus and Mr. Uli Roth's full of virtuosities "Yellow Raven":
"Taken by Force" is the last album to feature Uli Roth and the first with Herman Rarebell. "Taken by Force" is a very good sample of what are going to be Scorpions's trademarked ballad skills: guitar fingered intro in a crescendo that burst in a guitar solo to then comeback to a serene and calm tranquility. So is "We'll Burn the Sky." "Riot of Your Time" follows their old traditional balladerism with acoustic guitars leading the way with some strong distorted guitars. And, at last, the beauty of "Born to Touch Your Feelings."
From "Lovedrive" on, Scorpions begin their walk to stardom. This album shows one of the most beautiful ballad ever written: the formidable "Holiday." A honorable mention to "Always Somewhere" which is equally beautiful:
"Animal Magnetism" shows that Scorpions have reached a fantastic level of balladeering skills. With "Lady Starlight" Scorpions reach another ballad level: Balladeer Masters, where only Led Zeppelin and Nazareth were before. As I am a confessed fan, I will leave to you the delight:
"Blackout" is the album that showed Scorpions to the world and it comes with "You Give All I Need" and the fantastic, formidable, wonderful, and a bunchful of adjectives that pay the needed respect to "When the Smoke Is Going Down" with its shoegazed drums, touchful bass lines and, of course, warm Klaus Meine vocals.
Tah dah! Let the drums go free! It is time to "Love at First Sting" and "Still Loving You."Needs no more talking. Perfect video, by the way:
"Savage Amusement" is not one of the most well-known Scorpions's albums, even though it shows good songs, and the Scorpions master balladeering gave us "Rhythm of Love" which is not a real ballad, but a slow cadenced song. The real ballad is "Believe in Love."
Well, after all the glory and fame of "Love at First Sting" and "Still Loving You," the whole world thought it would not be possible to have another hit. But Scorpions did it again! "Crazy World" showed that there are no limits to Scorpions's master balladeering. World, I present you "Wind of Changes" with the most well-known whistle in music history, and the unofficial Berlin Wall Fall anthem. I guess it is not fair to show another song, but "Send Me an Angel" is also memorable with its anthemic chorus:
From then on I lost track of their career due to Scorpions's downfall, but their legacy, not only in terms of ballads is remarkable.
P.S.: I wrote this text to the memory of a very dear Metal warrior who was deceased in the metallian wars, a true Scorpions fan and who presented me this wonderful band. It is very hard to listen to all these songs and not remember you. Rest in peace, my brother and my friend Rui Gabriel. It was a honor to serve with you!