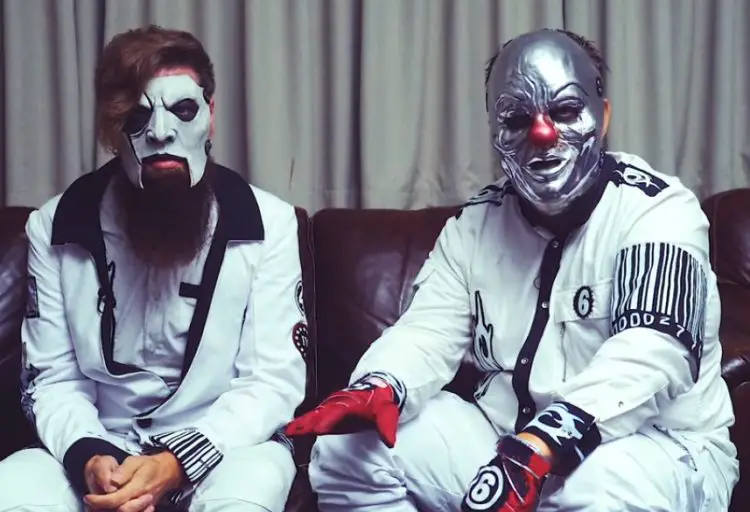 SLIPKNOT members Jim Root and Shawn "Clown" Crahan were recently interviewed by Warner Music Canada.
Speaking how band approached writing process for latest album, We Are Not Your Kind, was, Clown said: "Every album cycle, every writing process, almost everything we do is different from the time before.
I think we really pride ourselves on reinventing, evolving and not repeating," he added. "So, yes, we take elements from the past — some work, some don't; we bring 'em anyway — but we always try to evolve and look to the future and take a good look at where we're at, leaving the past behind."
He also spoke about the process of creating a stage set for a tour: "Usually what happens is we're on a tour cycle, touring the entire world, checking out culture, society, checking out the news, putting our feet in the soil, so to speak.
"And then we take some time off after that cycle, which is usually to repair our bodies and our brains and our spirituality, whatever that is. And then we get bored. And that's when we start coming up with ideas. But, again, we can't repeat what we've done. We can use that as a building block.
"When it comes to the stage setup, there's a lot of what didn't work in the past, so we try to rebuild to work better for ourselves," Clown continued. "More efficiency, so there's less stress and more time to play and have fun."
SLIPKNOT released their sixth studio album, We Are Not Your Kind, on August 9 via Roadrunner Records. Album was once again recorded at a Los Angeles studio with producer Greg Fidelman, who engineered and mixed SLIPKNOT's 2004 album Vol. 3: (The Subliminal Verses) and helmed 2014's ".5: The Gray Chapter."