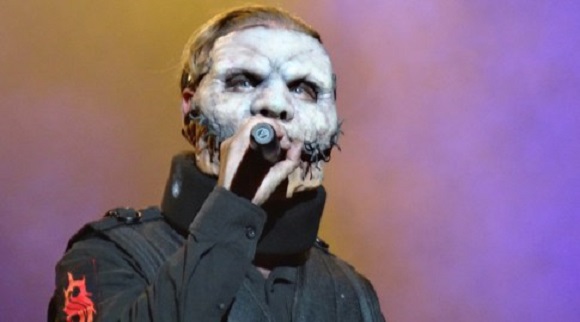 SLIPKNOT's Corey Taylor fell on stage on the second show of its tour with MARILYN MANSON Wednesday night at Lakewood Amphitheatre in Atlanta. Corey performed once again with a neck brace after undergoing surgery earlier in the month.
One fan who attended the Atlanta show reported that Corey "took a hard fall" at the end of the set and "couldn't walk when they picked him up." Another concertgoer said that Taylor "had to be supported out" at the end of the conclusion.
A third fan told Blabbermouth.net: "I was front row and after the final song, after the usual thanking and waving to the crowd, Corey Taylor collapsed on stage and had to be carried off by the stage crew. As I was leaving, EMTs were rushing backstage. Throughout the show he was clearly in pain from his neck but still clearly gave it all he could. The neck pain/previous injury plus the 95º Atlanta heat and his fully-covering outfit=a downed frontman. He was shaking and looked to not be in a good way as they pulled him off."
After a while, he let fans know that he's alright on Twitter: "ATL: haha don't worry, I'm okay! I THINK that fall was one for the ages haha! DAMN it hurt- but DAMN what a crowd! See you again soon! #CMFT"
 Taylor has been ordered by his doctors to avoid headbanging and jumping on band's summer tour.
SLIPKNOT was forced to postpone first two weeks of its North American tour with MARILYN MANSON after Taylor underwent "an unplanned spinal surgery." The tour, was supposed to kick off on June 9 in Salt Lake City but will now begin on June 28 in Nashville.
ATL: haha don't worry, I'm okay! I THINK that fall was one for the ages haha! DAMN it hurt- but DAMN what a crowd! See you again soon!#CMFT

— PANDEMIC! AT THE DISCO (@CoreyTaylorRock) June 30, 2016