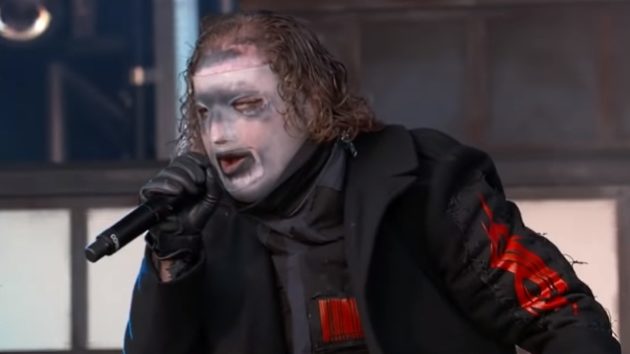 SLIPKNOT and STONE SOUR frontman Corey Taylor has blasted Spotify for the the paltry payments the music streaming service pays out to music rightsholders.
Corey made his comments after Nils Lofgren of Bruce Springsteen's E STREET BAND took to his Twitter on Saturday to complain about the fact that artists "simply don't get paid for [their] work" while Spotify is "worth billions."
Taylor then responded: "No one points this out. And while Congress has passed legislation to right this wrong, almost all the streaming services are APPEALING, which means we STILL don't get paid for our work. But please people, by all means- stream away…"
He then added that bands like SLIPKNOT and STONE SOUR "HAVE to tour. It's the only way we can make a living. Merch helps, but the merch companies make the lion's share. Streaming is pricing artists- old AND new- out of careers."
"I don't care HOW people get the music," he continued. "I care how the COMPANIES who provide it compensate the f*ckin' people who made it in the first place."
He then praised iTunes as "the ONLY streaming service that is NOT appealing the legislation."
When one fan implied that record contracts are ultimately to blame for how the artists get paid by streaming services like Spotify, Taylor replied: "All due respect, this isn't about contracts right now because they don't reflect the service righteously. And even if the streaming service pays the label, WE still don't get paid.
"This is about PUBLISHING. They're offering OUR work and not paying for it…. Because as long as the RECORD LABELS get THEIR money, they don't CARE if the ARTIST gets paid at ALL. Or who plays their music- unless it's a critic on @youtube THEN THEY'RE UP IN ARMS"
After another fan asked if there is one service that is better than others where fans can purchase music digitally, Taylor said: "Any service where you can buy the album, or songs at a time. Even buying a song singly makes us more than simply streaming it. The irony here is, if the streaming services adhered to the payment scale that Radio has to abide by, we'd all be paid fairly."
SLIPKNOT will release their sixth studio album, We Are Not Your Kind, on August 9 via Roadrunner Records. Album was once again recorded at a Los Angeles studio with producer Greg Fidelman, who engineered and mixed SLIPKNOT's 2004 album "Vol. 3: (The Subliminal Verses)" and helmed 2014's ".5: The Gray Chapter."